Pull back the curtain, you'll see the proscenium
La Compagnie du Zerep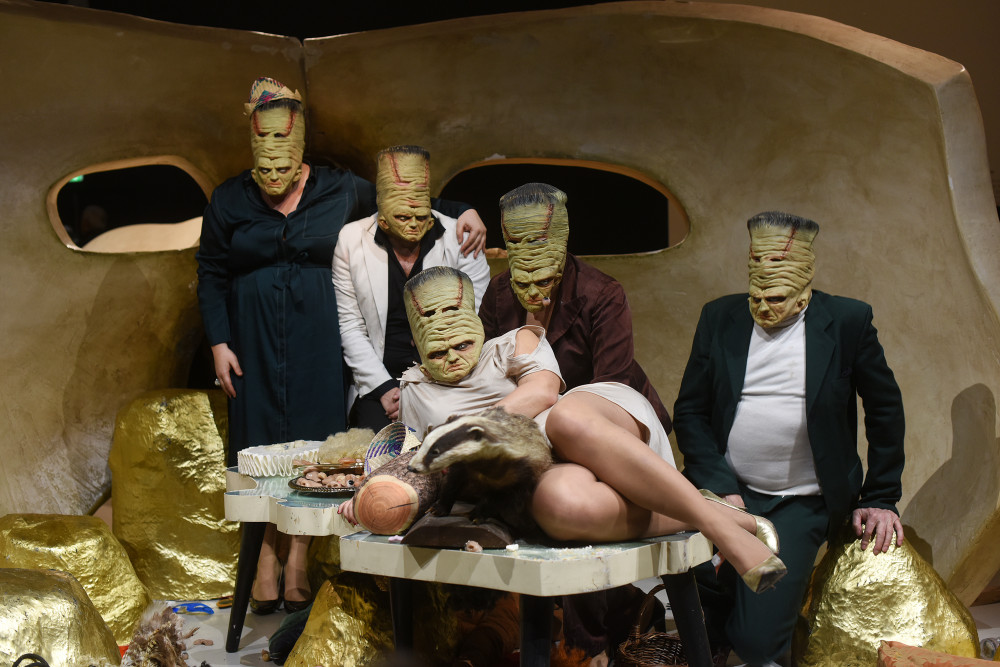 The core members of Zerep: Sophie Lenoir, Gilles Gaston-Dreyfus, Stéphane Roger, Marlène Saldana. A performance somewhere between a photo-novel and a tableau vivant, between a Christmas manger and a wax museum, between an experimental farce and the laws of universal gravitation. Only the starting point always remains the same: two couples at a cocktail party.
La Compagnie du Zerep
Curated by La Compagnie du Zerep for the prefiguration of KANAL - Centre Pompidou. This performance takes place in a programme stretching over three weekends that features La Compagnie du Zerep and guest artists, conceived by Sophie Perez and Xavier Boussiron. The performances will be presented at two sites on the exhibition trail: the theatrino-sculpture 'Boboourg-la-reine' ('Queen Boboourg') and the installation-set 'La pierre à Magritte' ('The Magritte Stone').
Since its conception in 2009, 'Beaubourg-la-Reine' ('Queen Beaubourg') has been a theatre, a kind of multipurpose hall (in the noble sense of the term); and also a sculpture that recalls the early-twentieth-century architecture when the shoemaker used to live in cowboy boot-shaped house and the sandwich-seller in a hot-dog-shaped joint. 'Beaubourg-la-Reine' is a Circle (as are still to be found in Spain) whose objective is to recall the notions that are dear to us: an elementary taste for blasphemy, sporty excentricity, the propaganda of originality and of entertainment, a confined aesthetic, folklore, corniness, racial degeneration, the private joke, the plodding tradition and the cult of the moment …
But, between archival work and living documentation, 'Boboourg-la-Reine' is above all a play by La Compagnie du Zerep that is open to guests – guests who act as a source of both admiration and inspiration. And in an age when it is easier to get along with overvalued objects and with wise or dead artists, we ensure that the human presence and its expressiveness exceed the safe value of a 'work of art'. All this under the not-always-benevolent figure of the big-nosed commander.