NIGHT SHIFT
Nyege Nyege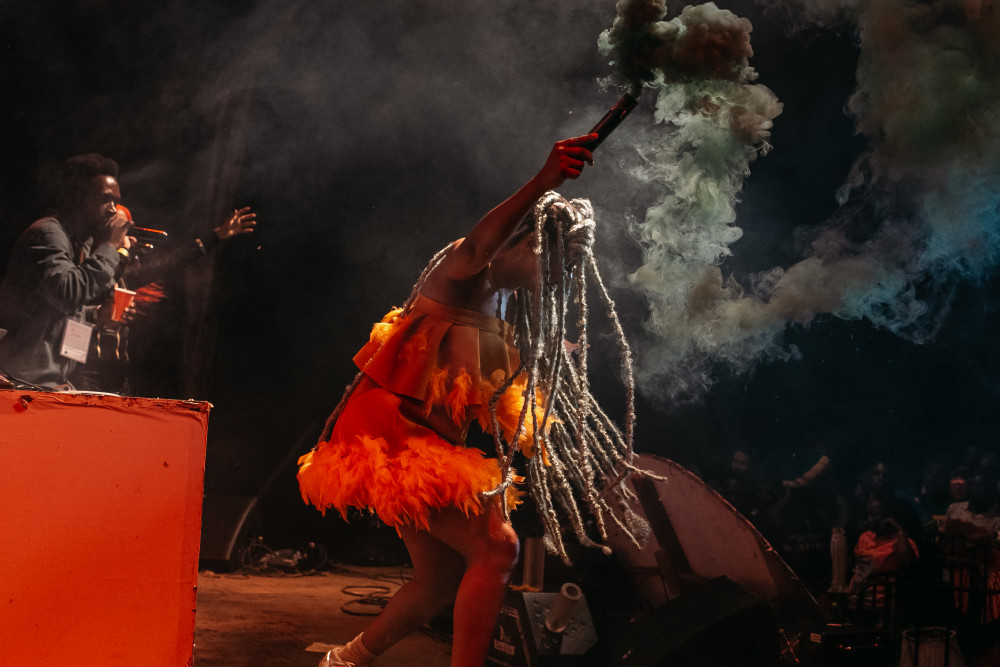 From left field electronics to post punk ritualistic incantations and audiovisual mindbenders, travelling through Paris, New York, London and Berlin by way of Kampala, Libreville and Yaounde, Friday night Nyege Nyege invites artists conjuring new worlds at the crossroads of ancestrality, contemporary art and afrofuturism.
Saturday night is dedicated to the sounds of contemporary African electronics, from Nigerian freebeat to Saint Lucian kuduro and Tanzanian singeli. On the menu: fast pasted, hip bending, body shaking all-out dance music, including world premieres of DJ Tobzy and DJ Sisso, as well as the world premiere of Psychedelic Balani, a specially commissioned interactive AV installation by Dutch-Sudanese audiovisual composer Tarik Barri and balani show pioneer DJ Diaki.
To launch NIGHT SHIFT and usher in the spring, Nyege Nyege takes over K1 to instill the "sudden and uncontrollable urge to dance" that the Ugandan collective's name means in Luganda. From the nightclub founded in 2013 in Kampala where they hosted musicians, DJs, and underground artists from East Africa, the Ugandan collective has expanded into two internationally renowned labels (Nyege Nyege Tapes and Hakuna Kulala), an artistic residency, and recording studio as well as an annual festival with a Pan-African and international focus. Their programme for K1 includes concerts, performances and DJ sets.
Taking its inspiration from the former Brussels nightclub that was K1, NIGHT SHIFT is a series of four weekends that bring together music, sound, visual arts, dance, and club culture. Once a season, at nightfall, NIGHT SHIFT proposes an interdisciplinary programme guided by the freedom, mystery, and sensations that darkness allows.
Friday 17.03
GROUND FLOOR
18:00 - 20:00 Kongi plays Africa Museum vinyl collection
20:55 - 21:40 Metal Preyers ft Otim Alpha live AV show
22:15 - 23:00 Masma Dream World live AV show
23:45 - 00:30 NZE NZE live
TOP FLOOR:
20:05 - 20:50: Jessica Ekomane x Afrorack live
21:45 - 22:10: Cindy Pooch live
23:05 - 23:35: Numin live AV show
CURFEW: 1AM
Saturday 18.03
FIRST FLOOR
18.00 – 20.00 : Nyege vinyl club with Moroto heavy industries
20.00-21.15 : Binghi
21.15 : DJ Travella
22.15 : DJ Top Klas
23:15 : MC YALLAH
23.30 : DJ TOBZY x AUNTY RAYZOR
00.30 : SISSO x MAIKO x KADILIDA
TOP FLOOR
21H - 01.00 : DJ DIAKI x TARIK BARRI present psychedelic balani super club
CURFEW 3AM
Curators: Claire Contamine en Guy Gypens.