Godefroid of Bouillon: The Bastard Son of Antara Bin-Shaddad
Samah Hijawi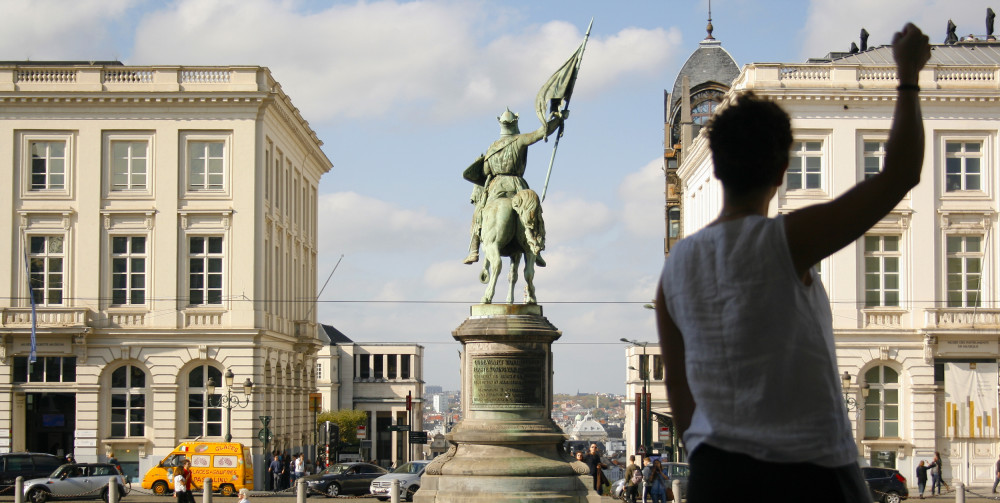 A story that jumps through time and across geographies brings the artist and her grandmother in Palestine, together with two well-known European personalities; Godefroid de Bouillon, known as the first king of Jerusalem and the illegitimate son of the famous Arabian poet Antar Bin-Shaddad, and the 16th-century Flemish painter Pieter Bruegel.
Time collapses as we travel back and forth across millennia—from Jerusalem, to Brussels, to London, and back to Jerusalem. Following the non-linear hakawati structure of epic story-telling, personalities and images are playfully displaced and re-contextualised in a colonialist history. Using different forms of collage in both the narrative and the images, Hijawi tactfully invites us to look with her at how colonialism is deeply embedded in canonised European artworks.
 
This performance is part of a larger body of work entitled 'Chicken Scribbles and the Dove that Looks like a Frog' which explores the aesthetics of representation in artworks that allude to the political histories of Palestine through various media.
Samah Hijawi is an artist and researcher currently doing her PhD in Art Practice at ULB and the Academie Royale Des Beaux Arts de Bruxelles, Belgium. In her multi-media works she is exploring the aesthetics of representation in artworks that allude to the histories of Palestine. Her works have been shown in The Royal Museum of Fine Arts Brussels, Museum M, The Hayward Gallery in London, BOZAR and Beurscchouwburg in Brussels, Bureau Europa- Maastricht, MoMa and Apex Art - New York; Darat al Funun - Amman, among others. She previously collaborated with Ola El-Khalidi and Diala Khasawneh in directing Makan Art Space (2003-2016), an independent space for contemporary art in Amman. And together with Shuruq Harb and Toleen Touq she co-curated the platform The River has Two Banks (2012-2017), initiated in to address the growing distance between Jordan and Palestine.
Credits
Concept and performance: Samah Hijawi | Dramaturgy: Reem Shilleh | Technique: Gregor Van Mulders | Producer: Kunstenwerkplaats Pianofabriek | Co-producers: BOZAR, Chaire Mahmoud Darwich, Kunstenwerkplaats Pianofabriek, Moussem, A. M. Qattan Foundation, KAAP | Coaches: Frederik Le Roy, Sana Ghobbeh and Einat Tuchman.
With the support of Vlaamse Gemeenschap, MMAG Foundation, Nadine and De School van Gaasbeek.