ARTBREAK CANTINE par ARGOS
Program #1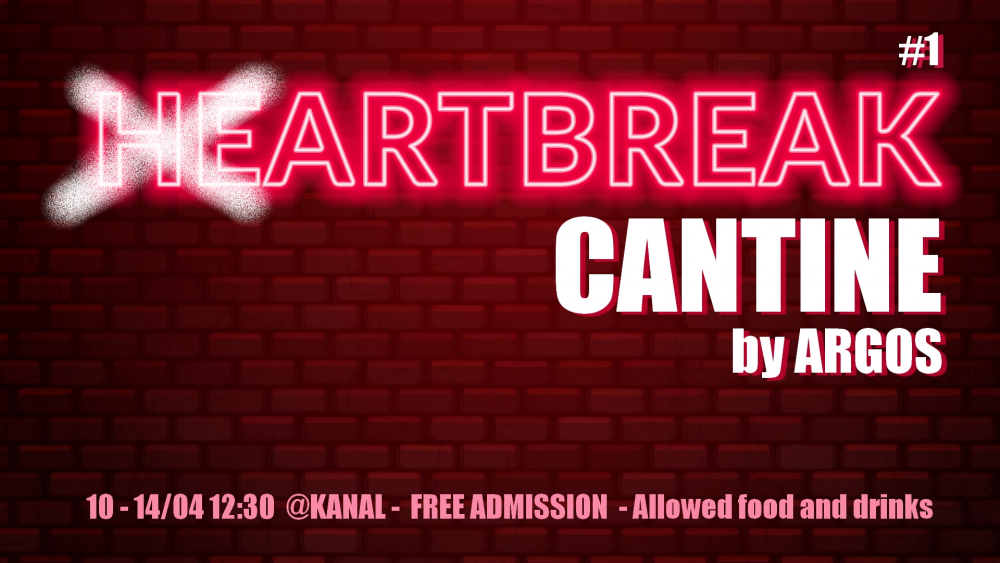 Not in the mood for having lunch with your colleagues today ? Are you tired about eating your sandwich on your own in front of your computer? Then come and eat your sandwich at KANAL, in the old Citroen Canteen while watching artists' films!
KANAL invited ARGOS to set up 4 programs for your lunch break.
PROGRAM #1
For this 1st program, ARGOS has selected 3 award-winning movies, made by talented filmmakers, which scramble perspectives and points of view. In these short films, the notions of ""here and there"" and ""public and private"" are in constant mutation.
SHELLY SILVER - 5 lessons and 9 questions about Chinatown (2009)
10 ', color and B/W, English and Chinse spoken, English and Chinese subtitled
A building falls down and, before the next one is built, you ask yourself ""what was there in the past""? This short film takes us to an area being shaped since the 19th century by waves of people and immigrants, who have crossed and transformed these alleyways, buildings, greenhouses and stores all-over.
SANDRA HEREMANS - La Mazda jaune et Sa Sainteté (2018)
10'31 ", color and B/W, French spoken, English subtitled
"The yellow Mazda and its holiness" is a conceptual experience explaining what it means to start a film with a black image and, ultimately, it turns into a subtle personal essay on the filmmaker. The story of a missionary falling in love with a Rwandan girl merges with the girl's images and colonial history.
AN VAN DIENDEREN -  LILI (2015)
12' , color, English spoken.
LILI tells the story of one of the China Girls, Caucasian women, filmed next to a color chart to fit the colors of the movie. Through archives, found images and documentary recordings, this film challenges this tradition and contextualises it in our society.