Ayur
de Radouan Mriziga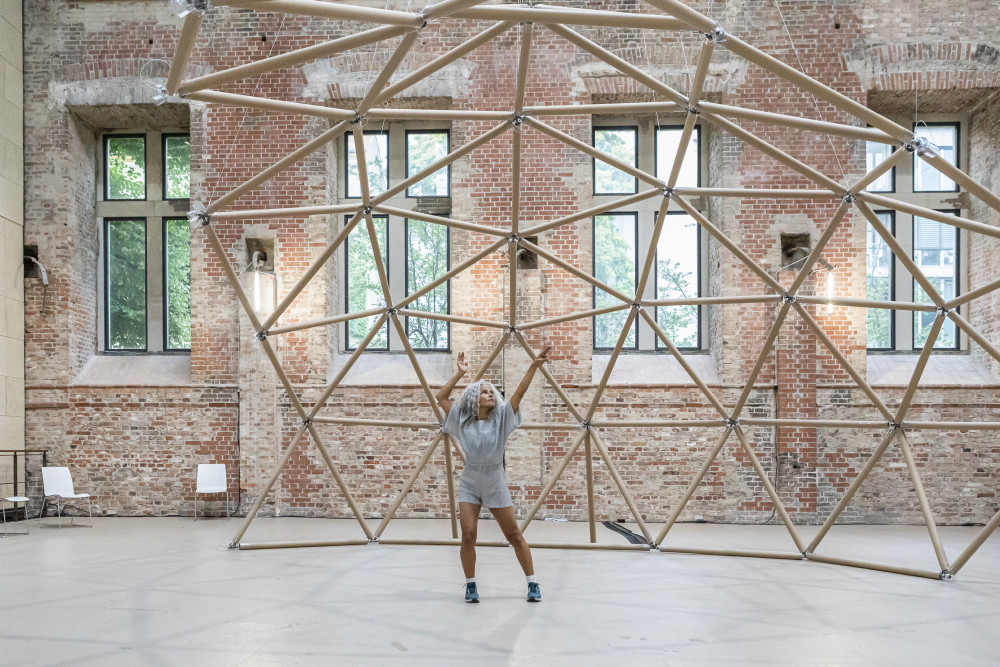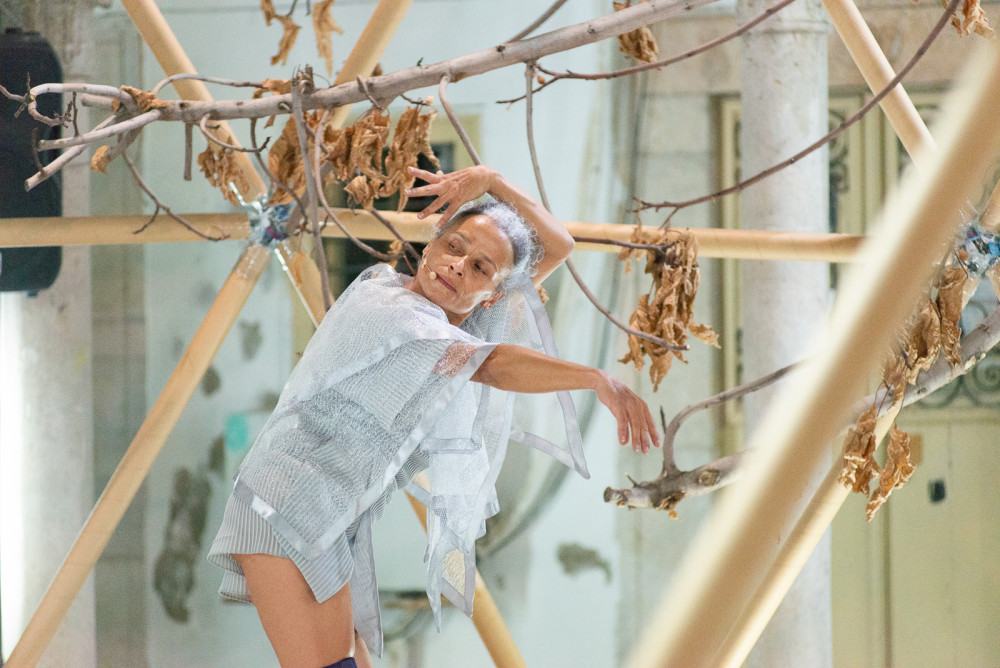 As part of the World Exhibition which is held in Dubaï, KANAL proposes to discover the work and universe of the artist Radouan Mriziga through one of his latest creations, AYUR. Our choice naturally turned towards this dancer-choreographer of Moroccan origin, who in his artistic work, strives to create bridges between the East and the West. This performance will be held outside the World Exhibition site in this high place of contemporary art - Alserkal Avenue - located in the creative and renowned district of Al Quoz.  At the same time, Al Quoz will host the 9th edition of its annual art and cultural festival, the Quoz Arts Fest, which will present AYUR twice.
The Brussels-based Moroccan choreographer Radouan Mriziga presents the second part in his trilogy centred around the knowledge of the Imazighen people of North Africa. Inspired by the ancient Carthegean moon goddess Tanit, Ayur is a solo created for Tunisian choreographer and performer Sondos Belhassen.
A female guardian of long¬lost wisdom, she passes in and out of a porous dome, speaking words by poet Lilia Ben Romdhane and rapper Mahdi Chammen.
In a silver¬shaded interweaving of dance, text and architecture, she summons the past while searching for a more inclusive future.
Radouan Mriziga (1985)
is a choreographer from Marrakech based in Brussels. Fairly quickly, he began to focus on his work as a maker, creating his first solo 55 (2014), followed by 3600 (2016), 7 (2017) and 0. (2019), performances in which he addressed dance through the prism of architecture and that have been touring across the world. Since 2019, Radouan is developing a new trilogy of works inspired by the culture and history of the Amazigh, the original inhabitants of North Africa. From 2017 until 2021, he is an artist-in-residence at the Kaaitheater in Brussels, and from 2021 until 2025 at deSingel in Antwerp.
Sondos Belhassen
is a Tunisian choreographer, dancer and dance teacher. She constructs her work around all kinds of experiences, somewhere between dance and film. She is also a dance teacher, working at El Teatro since 1998, at the national circus school and at the drama school of the National Theatre of Tunisia. She undertakes choreographic research alongside Malek Sebaï and Patricia Triki. The three of them create pieces, installations and performances, two of which were created for the Dream City festival: Manel wu Sawssen in 2007 and La prison des délits de cœur in 2010. For the seventh Dream City festival, she is working under the direction of Radouan Mriziga on his new project Ayur.
Credits
Concept and Choreography: Radouan Mriziga
By and with Sondos Belhassen
Support to the Research on Amazigh: Hajar Ibnouthen
Text: Lilia Ben Romdhane and Mehdi Chammem « Massi »
Music: Mehdi Chammem « Massi »
Costumes: Anissa Aida
Space: Radouan Mriziga in collaboration with Flayou
Architect: Flayou
Artistic Assistant: Maïté Minh Tâm Jeannolin
Production: Dream City (Tunis - TN)
Management and Distribution: Something Great (Berlin - DE)
Coproduced by L'Art Rue (Tunis - TN) , Moussem - Nomadic Arts Centre (Brussels - BE), Festival de Marseille (Marseille - FR) , Tanz im August / Hebbel am Ufer (Berlin - DE), A7TLA5 (Brussels - BE)
Production Assistant: Synda Jebali
Traductions: Marwa Manaï, Lilia Ben Romdhan, Mahdi Chammem
Supported by : Fondation DOEN, i-Portunus, Mairie de Tunis
Technical partner:  SYBEL Light & Sound
Acknowledgments: DEBO, Cyrine Boujila, Nawal Laroui, Leila Sebai, Manel Mahdouani, Mohamed Khalfallah, Zoubeir Mouhli, Wajdi Borji, Mehdi Ben Temessek, Ghilen Agrebi