KEEP CALM and CARILLON
Five Carillon Concerts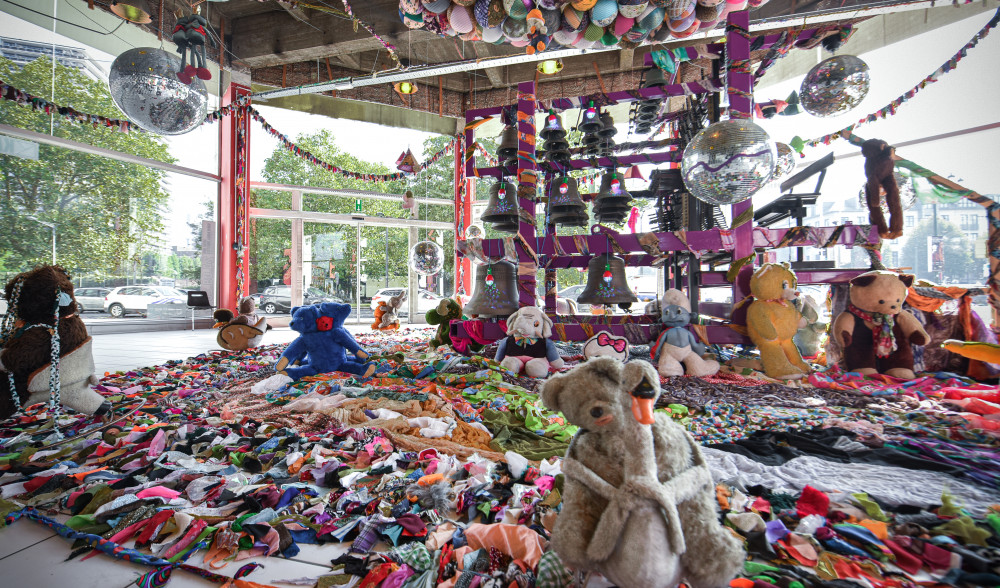 A carillon, transformed into a sculpture by artist Charlemagne Palestine, has adorned the ground floor of KANAL since September. The intention was to play this beautiful instrument on a regular basis. For an indoor live audience this is no longer possible for the time being. But a carillon cannot be confined! From 22 November, KANAL will present a series of 5 concerts. If you live near Sainctelette Square in Brussels or happen to pass by, you can also simply open the window or your ears and enjoy the sound of the bells ringing out over the city.
Pak Yan Lau - Pak Yan Lau studied at the conservatoire and is a member of the Belgian underground. She has a rather maverick approach and performs on prepared pianos or toy pianos, an approach that has made her reputation. Bringing her playful and adventurous way of playing into a confrontation with the heavy carillon bells of Charlemagne Palestine is not a question of contradiction, but a logical consequence where techniques emerge that are a far cry from academic dexterity. During this first streaming session Pak Yan yields to the tones of the master of "maximalism" and immerses herself in a rather lyrical exploration of the sounds produced by the bells. Pak Yan Lau has played with musicians such as Chris Corsano, Darin Grey, Okkyung Lee, etc...
29/11 - ERIC THIELEMANS & FARIDA AMADOU
Eric Thielemans - Belgian drummer and percussionist Eric Thielemans is one of the most unusual personalities on the Belgian scene. He plays with wide range groups including Lidlboj (with Jozef Dumoulin and Lynn Cassiers) and Tape Cuts Tape (with Lynn Cassiers and Rudy Found). Eric Thielemans is also fascinated by the performing arts and has worked with a wide variety of artists in the world of audio-visual including performers and dancers. He is a free improviser and has, in recent years, created a body of works for solo percussion using various objects to enhance his performances. He creates a climate of trance with repetitive and minimalist music. He often plays with Charlemagne Palestine, mainly in a trio with Oren Ambarchi.
Farida Amadou - Farida Amadou is a self-taught electric bass player based in Liège. She has performed with the jazz singer Linda Sharrock as well as Eve Risser, Mette Rasmussen, Mario Rechtern, Onno Govaert, Jasper Stadhouders, John Dikeman, Ava Mendoza, Julien Desprez, and in May 2018 she started playing with the English drummer Steve Noble. Between February 2018 and May 2019, Farida Amadou played bass with the punk band Cocaine Piss and in 2019, she recorded and performed concerts with Steve Noble, Alex Ward, Thurston Moore and Chris Pitsiokos. This year, she also collaborated with the American saxophonist Ken Vandermark on his MARKER project during his European tour and she has played in a trio with Steve Noble and Peter Brötzmann. She is currently preparing a solo album and continues the free improvisation that she started in January 2016 on the Liège scene with L'Oeil Kollectif (Tom Malmendier, Marius Morsomme, Louis Frères, Clément Dechambre, Xavière Fertin, Henri Charlier), as well as in Paris with the 2035 Collective (Morgane Carnet, Basile Naudet, Augustin Bette, Thomas Zielinski, etc.).
6/12 - HAMPUS LINDWALL & KOBE VAN CAUWENBERGHE
Hampus Lindwall - Hampus Lindwall is a musical artist who is praised as an organ performer of contemporary and 20th century music and as a creative improviser & composer. He was the last disciple of Rolande Falcinelli and is the Titular Organist in Saint-Esprit, Paris, a position made famous by Jeanne Demessieux who occupied it between 1933 and 1962. Hampus Lindwall gives concerts throughout Europe, in the U.S.A., Canada and China. He is doing numerous collaborations and first performances with composers and artists like Cory Arcangel, Noriko Baba, Raphaël Cendo, John Duncan, Leif Elggren, Mauro Lanza, Jesper Nordin, Studio For Propositional Cinema, Emily Sundblad and others.
Kobe Van Cauwenberghe - Kobe Van Cauwenberghe plays the guitar, electric or acoustic. He interprets, improvises, composes and arranges, solo, in a duo (Oh Mensch, with Matthias Koole), in a quartet (Zwerm, with Toon Callier, Johannes Westendorp and Bruno Nelissen ) or in mixed formations (Nadar, Ictus, …). He is currently pursuing a PhD in the Arts at the Royal Conservatoire of Antwerp with a research project on the music of Anthony Braxton. He just released the solo album "Ghost Trance Solos", featuring interpretations of Anthony Braxton's Ghost Trance Music, on the London based label All That Dust.