It Never Ends – Part 2
John M Armleder & Guests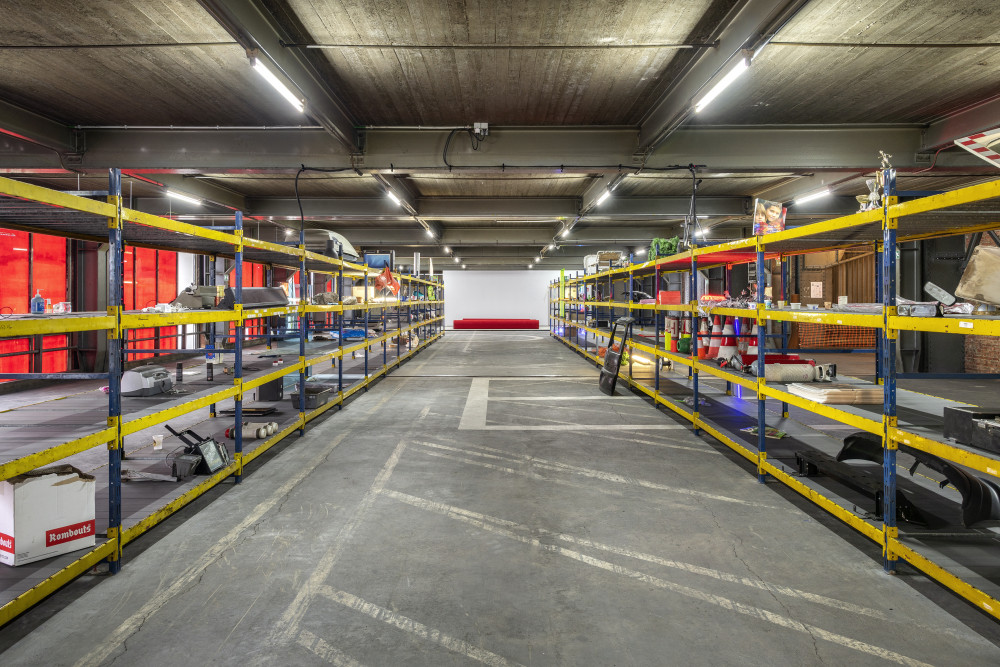 Second part (04.02 - 25.04) of the vast carte blanche given to the artist John M Armleder (born in 1948, lives and works in Geneva) by KANAL-Centre Pompidou. In September 2019, the artist was invited to take over for a period of seven months, the spectacular spaces of the showroom of the former Citroën garage in Brussels. The result is a dialogue with a series of large installations that he has designed especially for the space, a constellation of exhibitions, performances, concerts and meetings.
This second sequence of It Never Ends is an evolving exhibition that gives visitors the chance to continue exploring the world of Armleder and of those he loves. This project that constitutes a collective 'self-portrait' in motion of an essential and unclassifiable figure, reaffirms the ethical and aesthetic dimension of an open work of art by an artist who has never ceased to think of art in terms of collaboration, friendship and hospitality.
KANAL-Centre Pompidou, with the collaboration of John M Armleder, has created a public space on the first two levels of the Showroom, that is open Thursday-Sunday from 11.00 am to 7.00pm and that also features a free public library, a bar-restaurant area, a co-working area, workshop spaces for the neighbourhood, schools, associations, etc. and spaces for music and performances.
Guest artists: Atelier Barbier Bouvet, Karen Kilimnik, Charlemagne Palestine, Sylvie Fleury
Commisioners:
Bernard Blistène, Director of the Musée National d'Art Moderne / Centre Pompidou, Curator in Chief
Yann Chateigné, Associate Curator, KANAL–Centre Pompidou
Anna Loporcaro, Deputy Artistic Director in Charge of Audience Development and Partnerships, KANAL–Centre Pompidou
Guy Gypens, Head of Performing Arts, KANAL–Centre Pompidou
Jonathan Pouthier, Conservation Attaché at the Film Collection department of the Musée National d'Art Moderne / Centre Pompidou, Paris