It Never Ends – Bureau Barbier Bouvet
Hall & Tea Room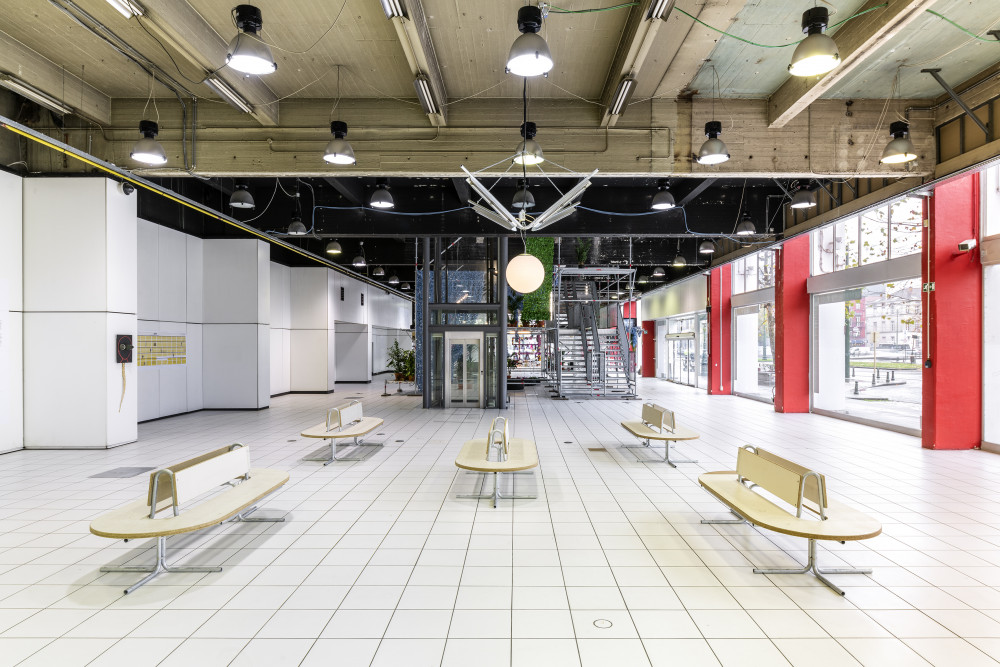 For It Never Ends, John M Armleder proposed to Bureau Barbier Bouvet – a studio founded by French, Swiss trained, Brussels based artist and designer Stéphane Barbier Bouvet – to conceive the spatial strategy for the entrance hall, the welcome desk of the Showroom, and the Café / Tea Room around which the Level 0 of the exhibition is organized.
"We took the functional elements in charge, at the ground level of the Showroom, and proposed to produce a desk, a series of benches and a bar. We displayed them around John M Armleder's piece – an artist with whom we already worked in the past – a central element in scaffoldings. The form of the objects is inspired by public space furniture design, relies on simple and practical solutions. It derives both from the idea of emergency design and the necessity to think the whole project in terms of reuse and detournement: all the constructions are made out of materials taken from the former Citroën garage and its demolished office spaces. Their variable finish is the result of an economical constraint that we imposed to ourselves, that leads to a rough, raw esthetics, that can appear sometimes playful and slightly ironic, that also belongs to our approach in general".
Bureau Barbier Bouvet was founded in 2010. Project team: Stéphane Barbier Bouvet, Maxime Prananto, Rachel Magnan, Alexander Pfeiffenberger.