Patagonian Fieldworks (Fieldworks#01) - Carlos Casas
POOL 6:33 / SHIPWRECK 8:16 / STABLE 4:59 / LIGHT 4:56 / SMOKE 6:36 / CONDOR 8:30 / CIVILISATION 3:26 / TREE 4:47 / OX 3:27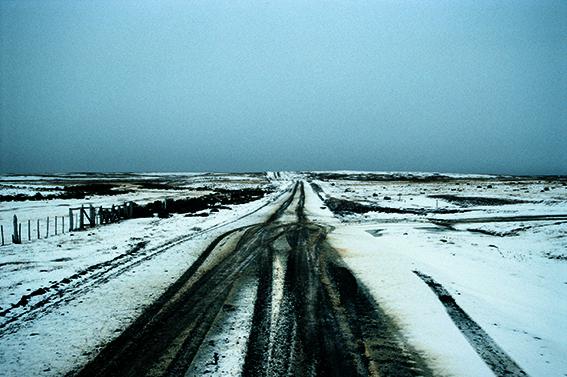 In parallel with the retrospective it devotes to the Argentine filmmaker Lisandro Alonso in November, CINEMATEK presents two films[S T1]  by visual artist Carlos Casas at Kanal: Soledad al fin del mundo and Patagonian Fieldworks. These documentary works, filmed in Patagonia, resonate with the snowy landscapes of the same region, splendidly pictured by  Alonso. In Kanal, the work of Carlos Casas is projected in a loop. It goes into dialogue with Rosa de Lima and Cargadores by French, Brussels-based, artist Joëlle de La Casinière. This way, during a month, different portraits of South America will be confronted.
Fieldworks are a series of films, a part of an ongoing experiment with ambiental video and radio frequencies, a sort of landscape video notes I have been developing since 2000, with these works I try to capture the atmospheric qualities of a landscape through visual and audio field recordings captured on location. Using image and sound asa sort of spatial instrument, I am interested in short waves signals and VLF, their atmospheric qualities and sound, capturing the radio waves in each of the landscape I portray, allows me to grasp another dimension of it. A sort of enhanced perception. I am interested also in the asynchronous randomness of the relation between soundtrack and film. I see this work as a sort of post structural film, where documentary and experimental film manners meet.
CINEMATEK has been a leading force for 80 years in providing daily explorations through the history of cinema. From the beginning, the approach has been wider than just a historical perspective, also reflecting the relationship contemporary, visual and performance arts have with the moving image. Through festivals and film-cycles CINEMATEK presents the works of the avant-garde, showcasing artists bringing together different disciplines and pushing the language of film. It was no surprise that the CINEMATEK accepted the Kanal Foundation's invitation for them to join forces.
Working in dialogue with Argos, Centre for Art and Media and collaborating with the Centre Pompidou Experimental Film Department SHOWroom CINEMATEK daily screens the work of contemporary filmmakers shown in a continuous digital program. Once a month the showroom will also host a special event, SWEET 16, paying tribute to 16mm film.
Patagonian Fieldworks (Fieldworks#01)
Carlos Casas
Patagonia, 2001-2002
Color -50'