QUARANTEENS @ KANAL: COLLAGE TRUT!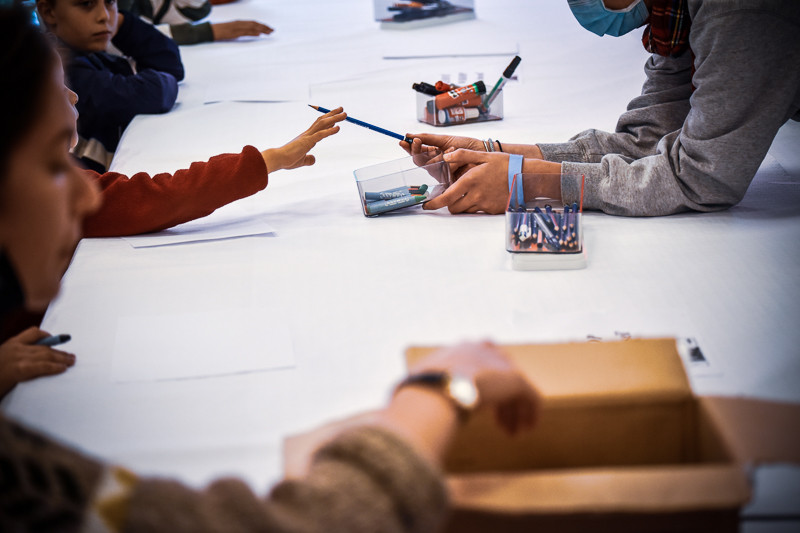 John M Armleder was still very young (between 12 and 15 years old) when he joined up with a number of friends and, encouraged by their art teacher and rowing instructor, founded the artist collective Ecart. Ecart organised entertaining, creative and artistic sports and leisure activities and later developed into a bookshop, gallery and printing house, which printed collective artworks and publications on paper.
All you need is a pair of scissors, paper and glue to make the craziest collages and compositions. Lies Van Driel, AKA TRUT at StudioFluo, flew around the world (Coffee, tea ... me?) and enjoys making collages in order to keep both feet on the ground. Lies does not use digital devices, but restricts herself to scissors, paper and glue. She sniffs out her materials such as magazines, books or paper from flea markets and charity shops. So how does this workshop work? StudioFluo provides heaps of old magazines and materials (glue, scissors, cutters and cutting mats). And Lies teaches you the hidden tips and tricks. Afterwards you can scan your work and have it enlarged if you like. You can take your work of art home with you as well as lots of useful tips and tricks to continue shizzling at home.
KANAL is a museum like no other. The temporary exhibition It Never Ends with works by Swiss artist John M Armleder & friends features Christmas trees growing downwards from the ceiling and disco balls that get everyone in the mood to party! And exclusively for Krokuskriebels, we offer an extensive 'à la carte' family programme throughout the spring break with children- and parent-friendly workshops. Child-only activities are available for parents who do not wish to take part in the workshops! Parents will still be able to enjoy a visit to the exhibition with or without a guide. At KANAL, we want to ensure that everyone is able to visit the museum safely. This is why we have had to limit the number of visitors to the exhibition and the number of participants in workshops and different activities.
From 13 to 21 February, the Gezinsbond is organizing the 10th edition of Krokuskriebels! Especially for Krokuskriebels we offer an extensive family program throughout the spring break. Discover the full "à la carte" program and make your choice!