Zimmer, Gespräche
Dora García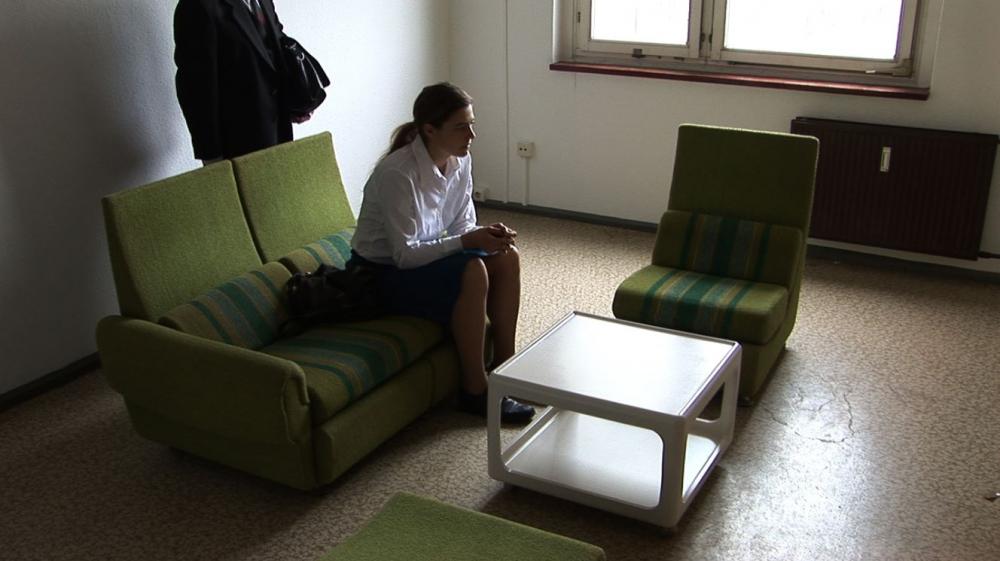 On October 10, Spanish artist Dora Garcia will present the Belgian premiere of her latest film Segunda Vez (2018) at CINEMATEK. On this occasion, CINEMATEK also shows a retrospective of her work, both on its own screens and in room SR5 at Kanal, where her two videos The Glass Wall and Zimmer, Gespräche are screened.
A Leipzig apartment is the chosen setting for an encounter between a Stasi officer and a civilian informant in Zimmer Gespräche ('Room, Conversations'). Until 1989, the Stasi was the all-powerful East-German police. However, neither the Stasi nor the city of Leipzig are ever specifically mentioned. The video is thus set in an undetermined time and space, only discernible through the accent of the actors and the clothes they wear. Constructing a realistic scene is not Dora Garcia's intention, and Zimmer Gespräche is neither a documentary nor a documentary fiction. Garcia is attempting to communicate abstract notions such as fear, control, authority, submissiveness, obedience, absurdity, power or surveillance by using the parameters of a given historical situation. Such notions, which are closely connected to issues of secrecy, archiving, the community or codes of human behaviour, are recurring themes in the work of this Spanish artist.
CINEMATEK has been a leading force for 80 years in providing daily explorations through the history of cinema. From the beginning, the approach has been wider than just a historical perspective, also reflecting the relationship contemporary, visual and performance arts have with the moving image. Through festivals and film-cycles CINEMATEK presents the works of the avant-garde, showcasing artists bringing together different disciplines and pushing the language of film. It was no surprise that the CINEMATEK accepted the Kanal Foundation's invitation for them to join forces.
Working in dialogue with Argos, Centre for Art and Media and collaborating with the Centre Pompidou Experimental Film Department SHOWroom CINEMATEK daily screens the work of contemporary filmmakers shown in a continuous digital program. Once a month the showroom will also host a special event, SWEET 16, paying tribute to 16mm film.
Zimmer Gespräche
Production : Dora García
2006, 28',  color, German spoken with English subtitles, digital file