PHANTOM OFFICES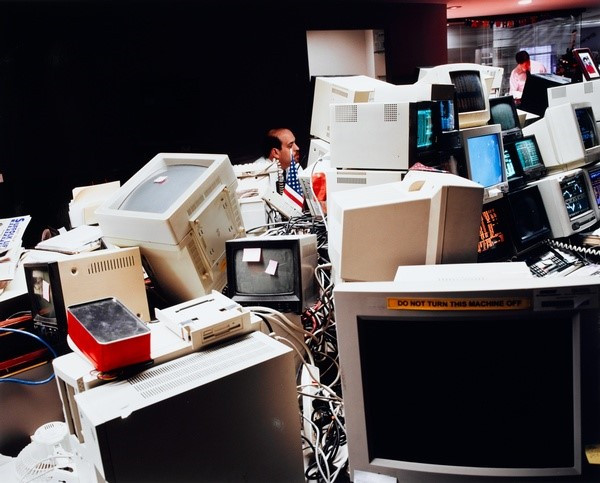 © Centre Pompidou, MNAM-CCI/Jean-Claude Planchet/Dist. RMN-GP
© Lars Tunbjörk/ Galerie VU'
Held in the former administrative offices of the Citroën garage, this new exhibition gathers design objects from the collections of MNAM-CCI, Centre Pompidou and ADAM – Brussels Design Museum.
The design collection of Centre Pompidou is wide-ranging. Its scope makes it possible to follow the history of design throughout the twentieth century and to this very day.
It engages here in dialogue with the collection of ADAM, which comprises the rich collection of the Plasticarium, which itself traces an original and singular history of plastic design.
This exhibition brings together more than 70 designers spread across a dozen spaces which are each like 'stages' where each office presents a playful recreation of imaginary workspaces.
However, the utilitarian discourse has here made way for constellations of objects that respond to the triggers of dream association, to nostalgia, the concept of uselessness and anachronisms, all imbued with humour and hidden meanings.
The President's Office and Lounge, the Human Ressource Office, the UnionOffice , the I.T Room, the Co-working Space, the Phantom offices Office, the Radicality Office and the Interrogation  Office all open onto a 'surrealist wonder'.
The functionalism and standardization of the spaces has made way for an exhibition permeated by irrationality, obsoleteness and free associations that stage a history of design in its 'resemblance' to the real. The offices therefore merely 'ressemble' offices, in a kind of mental archaeology, a mise  en abyme of a 'mystery' in the Magrittean sense of the term.
The offices serve here as a tribute to anti-design and offer up a critique of functionalism. Work has here made way for sleep, play and the reappropriation of objects.
These offices function therefore through 'elective affinities' and pretences, trompe l'oeils and exquisite corpses.
Designers and artists: ARCHIZOOM, RON ARAD, GAE AULENTI, MARTINE BEDIN, PIEKE BERGMANS, MARC BERTHIER, HARRY BERTOIA, OSVLADO BORSANI ET EUGENIO GERLI, MARCEL BROODTHAERS, ACHILLE ET PIER GIACOMO CASTIGLIONI, CENTRO PROGETTITECNO, JOE COLOMBO, HANS CORAY, MATALI CRASSET, ROBIN DAY, GUIDO DROCCO & FRANCO MELLO, ALAIN GILLES, PATRICK GINGEMBRE, HARTMUT H. ESSLINGER, PAUL FACCHETTI, JEAN-CLAUDE FARHI, HERVÉ FISCHER, PIERO GATTI, CESARE PAOLINI ET FRANCO TEODORO, WILLY GUHL, VITTORIO INTROINI, JONATHAN IVE, KINETURA, REED KRAM, YONEL LEBOVICI, ROLF LIEBERMANN, RAYMOND LOEWY, MICHELE DE LUCCHI, ROBERTO LUCCI ET PAOLO ORLANDINI, ROBERT MALLET-STEVENS, ENZO MARI, INGO MAURER, ALESSANDRO MENDINI, OLIVIER MOURGUE, MULLER VAN SEVEREN, NENDO (OKI SATO), NICOLA L., NORMAL STUDIO, ELIOT NOYES, PIERRE PAULIN, GAETANO PESCE, QUASAR, PHILIPPE RAHM, BERNARD RANCILLAC, GINO SARFATI, ETTORE SOTTSASS, PIERLUIGI SPADOLINI, STUDIO 65,
STUDIO GGSV, SUPERSTUDIO, PHILIPPE STARCK, MARTIN SZÉKELY, LARS TUNBJÖRK, MAARTEN VAN SEVEREN, WOODY VASULKA, MARCEL WANDERS, CLEMENS WEISSHAAR.