Red and White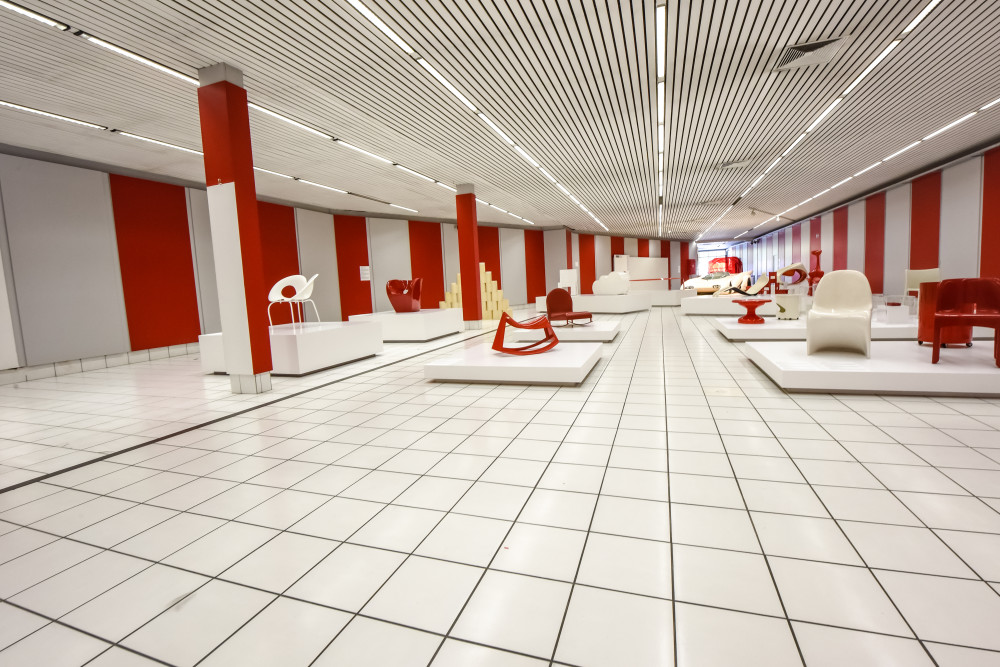 © Veerle Vercauteren
The Delivery Area of the Citroën garage will host the collection of design objects of both the Centre Pompidou and ADAM-Brussels Design Museum. The colours red and white echo the original design of this former showroom, inspired by the colours of the Citroën logo.
In the 1960s the colours white and red established themselves thanks to the introduction of plastics and synthetic materials. In the context of this technical revolution, red and white conveyed a new, hedonistic approach. The fluid, wave-like forms of objects inaugurated a new relationship between the body and the surrounding space (Olivier Mourgue, Günter Beltzig). The first single-form, injection-moulded plastic chairs, by Joe Colombo and later by Verner Panton, transformed the domestic space.
The designers made use of red and white to design light, multipurpose, stackable objects (Joe Colombo, Marco Zanuso and Richard Sapper, Anna Castelli-Ferrieri, Pier Giacomo Castiglioni and Achille Castiglioni, Gae Aulenti, Paolo Felli and Pierluigi Spadolini). In the 1960s, white was also associated with minimalism and the 'degree zero', referring to an 'anti-design' that questioned function.
From the 1980s–1990s onward, the sculptural volumes of Ron Arad blurred the borders between art, design and architecture. In the 1990s the futuristic designer Luigi Colani drew prototypes of cars with aerodynamic lines in red or white. Pierre Charpin highlighted the streamlined shape of his archetypal designs through the use of red. For his part, Belgian designer Xavier Lust associated the intensity of the colour red with the tensioning of his bent metallic surfaces.
Whether minimalistic or extravagant, functional or fictional, these design objects bring back to life a chapter of industrial history, from the 1960s until today – in red and white.
Designers and artists on display: Ron Arad, Gae Aulenti, François Azambourg, Günter Beltzig, Achille & Pier Castiglioni, Luigi Colani, Pierre Charpin, Joe Colombo, Jonathan de Pas, El Ultimo Grito, Anna Castelli Ferrieri, Gérard Fromanger, Hans Hollein, Patrick Jouin, Xavier Lust, Jasper Morrison, Olivier Mourgue, Ora-ïto, Josh Owen, Walter Papst, Verner Panton, Marcello Pietrantoni & Roberto Lucci, Pierluigi Spadolini & Paolo Felli, Marco Zanuso & Richard Sapper.