Day of the dance
CHARLOTTE VANDEN EYNDE & NICOLAS ROMBOUTS - Hyphen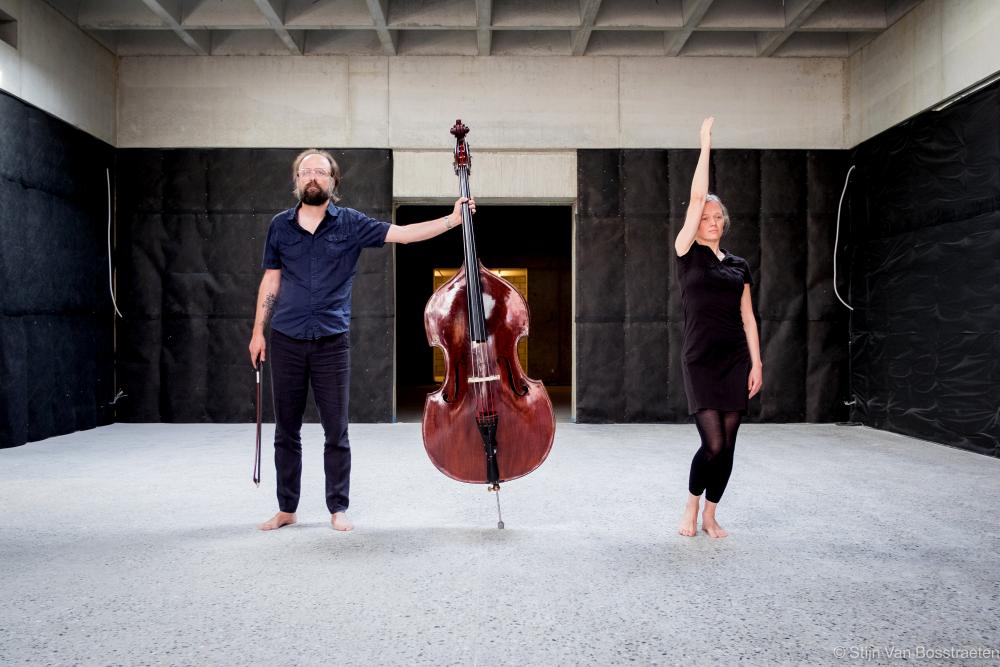 In their improvisation, choreographer Charlotte Vanden Eynde and double bass player Nicolas Rombouts explore the power and vulnerability of creating in the here and now. For Rombouts playing music is instant composition, for Vanden Eynde dancing is thinking. In Hyphen they become two parts of the same brain and explore the tension between intuition and mental control, between spontaneity and repetition.
Charlotte Vanden Eynde (BE, 1975) creates choreographies and performances in which the body is the central focus in a very visual and sensitive way. She often collaborates with other choreographers, theatre makers, filmmakers and musicians. She also gives movement advice and leads workshops based on her own practice.
Nicolas Rombouts (BE, 1977) is a double bass player, composer and producer. Together with Gregory Frateur he founded the band Dez Mona and also played with musicians and bands like Peter Kowald, Mauro Pawlowski, Peter Jacquemyn, Guido Belcanto, BRZZVLLL, Jim White, Stef Kamil Carlens, Bloednoot feat. Tom Lanoye and Teun Verbruggen, Matt Watts, Ottla and Simon Lenski. In 2014 he founded his recording studio Studio Caporal. He composes music for theatre, dance and film.
With and by: Charlotte Vanden Eynde and Nicolas Rombouts – Production: KAAP – Residencies: KAAP, CAMPO, nona, STUK, workspacebrussels, wpZimmer – Supported by the Flemish Community
Co-production Workspace Brussel et KANAL-Centre Pompidou