MEANWHILE
GAETAN RUSQUET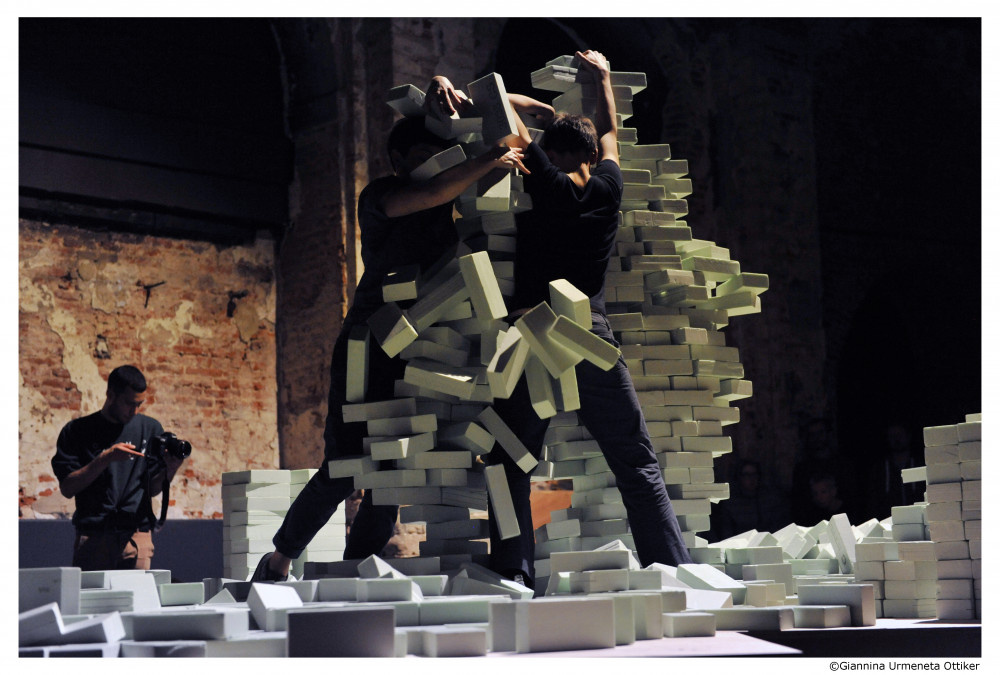 Three performers patiently erect a construction. Their gestures are methodical and the scene, architectural model or installation, takes shape like a city. Playing on the principles of stability and scale, the performers must face the destruction of their undertaking. Sound masses become more intense, ultimately making the space vibrate. The structure crumbles and the bodies become powerless. The threat of collapse becomes more concrete. The raw materiality of the set, the physical noise and the irrefutable gestural vocabulary turn Meanwhile into an apocalyptic show that materializes the passing of time and the relationship between humankind and its environment.
Concept: Gaëtan Rusquet
Sound design and live performance: Yann Leguay
Performers: Amélie Marneffe, Gaëtan Rusquet, Claire Malchrowicz
Light and set design: Gaëtan Rusquet
Developer: Jack Boyer
Stage Manager : Thiago Antunes
Production: Workspacebrussels, Commission art numérique, Hiros
With the support of: Volksroom Brussels, Wallonie Bruxelles International, MDT Stockholm and iMAL
Thanks to: Julia Irribaria, Julien Dubourg, Macha Planke, Lucille Calmel, Gillie Kleiman, Workspacebrussels, La Bellone House of performing arts.
Durationnal performance. Free entrance and exit.