SCREWS
Alexander Vantournhout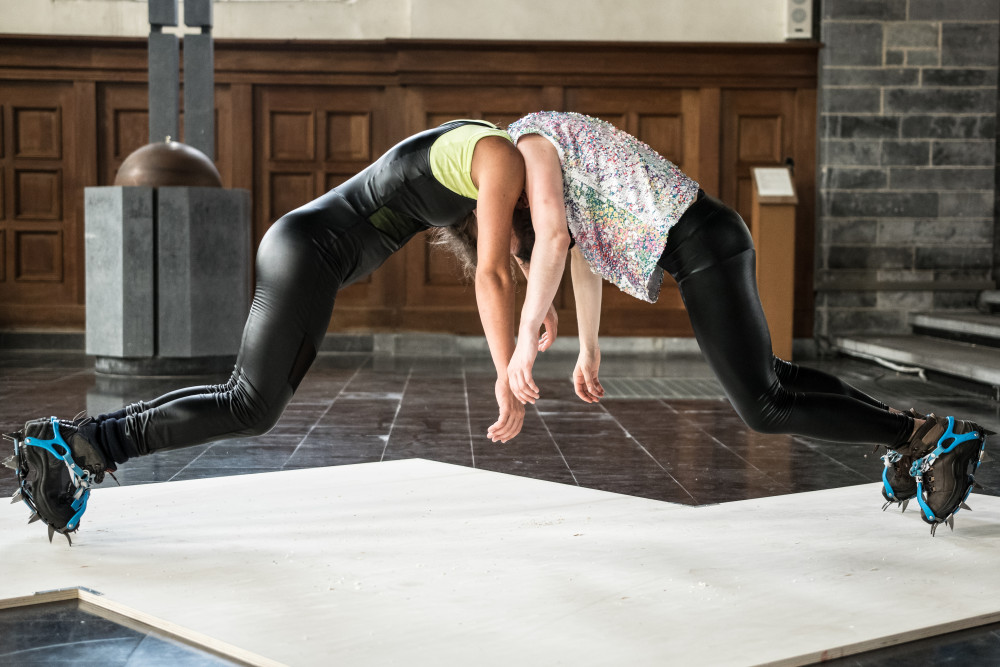 A presentation of workspacebrussels
In the frame of Working Title Festival
WORK-IN-PROGRESS
With Screws Alexander Vantournhout elaborates on his long-term research into the relationship between bodies and objects. How far does the autonomy of a human body extend? In a series of short microperformances Vantournhout explores the boundaries between the body and its surroundings, by attaching objects as prostheses to the performers, or by using an object as a co-performer.
Titles such as Object as projectile, Ice shoes, Wall Quartet / Bending Space, Use of the wall in the choreography or Anti-gravity boots provide a playful insight into the strategies that lie behind Vantounhout's choreography. The work is also a reference to iconic performances from the seventies by Trisha Brown (Walking on the Wall, Spiral, Roof Piece), Merce Cunningham and Johann Le Guillerm.
ALEXANDER VANTOURNHOUT studied circus at ESAC and contemporary dance at P.A.R.T.S. He followed contact improvisation with Steve Paxton and Lisa Nelson, and is associated with Movement Culture and Rootlessroot. He created the solos Caprices (2014) and Aneckxander (2015, together with Bauke Lievens), which won the Circus Next Award in 2014 and the Jongtheaterprijs at Theater aan Zee in 2015. The performance was selected for Aerowaves and the Theatre Festival. The duet Raphaël followed in 2017, again in collaboration with Bauke Lievens, and in 2018 Red Haired Men. Vantournhout is artist in residence at Vooruit from 2017 to 2021.
Concept & choreography: Alexander Vantournhout – Performers & collaborators: Petra Steindl, Josse De Broeck, Felix Zech, Hendrik van Maele, Emmi Väisänen, Alexander Vantournhout – Rehearsal director: Anneleen Keppens – Constructor: Willy Cauwelier – Music: Nils Frahm – Chorographic feedback: Anneleen Keppens, Martin Kilvady – Theoretical reflection / dramaturgy: Séba Hendrickx – Costumes: Anne Vereecke – Technical production: Rinus Samyn, Bram Vandeghinste, Jef Delva – Co-production: Vooruit, PERPLX, MA Montbeliard, Mira Miro – Residencies: Vooruit, STUK, Platforme 2 Pôles Cirque en Normandie / La Brêche à Cherbourg-Cirque-Théâtre d'Elbeuf, Theater op de Markt, Subsistances, P.A.R.T.S., Circuscentrum Gent, CC Brugge, De Warande, Wood Cube, workspacebrussels, Circa – Production: NOT STANDING (Not for profit organisation) – With the help of: the Flemish Government, the City of Roeselare – Thanks to: Bauke Lievens, Lore Missine, Veerle Mans, Ann Overbergh
Meer info: www.workspacebrussels.be