It Never Ends – Charlemagne Palestine
"""CHARLEWORLDSSS CREATORSSS CARILLONNN"""""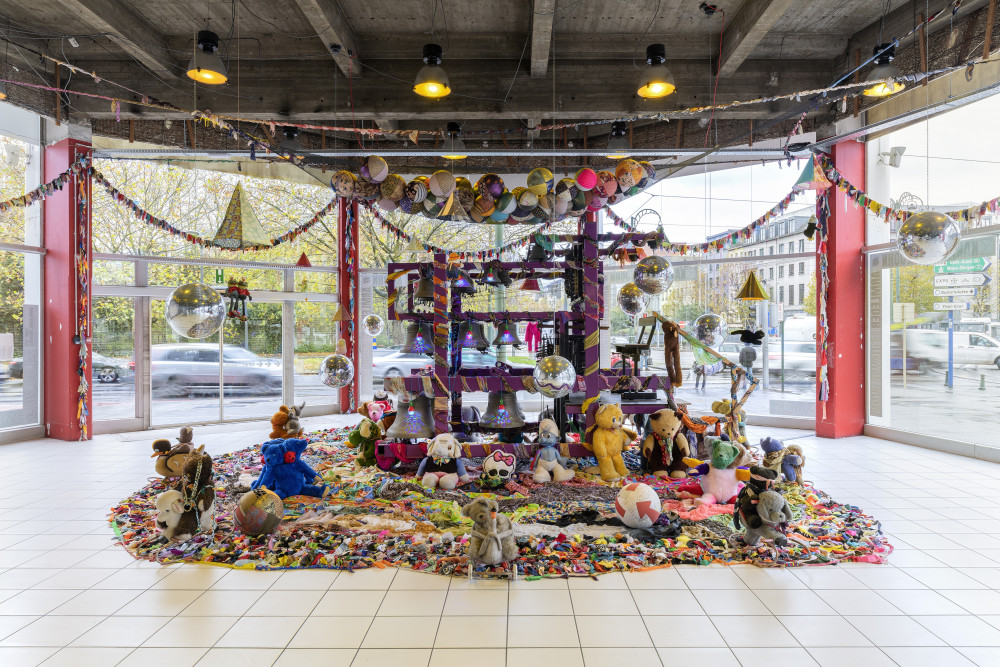 The unclassifiable artist, pioneering musician and tireless experimenter Charlemagne Palestine will install a monumental carillon on the ground floor of the Showroom for a period of seven months. Based in Brussels, this leading figure of the American avant-garde proposes to activate this invasive installation regularly on the occasion of hypnotic concerts.
A cult figure on the international art and music scene, Charlemagne Palestine is an unclassifiable character: his immersive, obsessive, fascinating installations can be separated neither from his ritual, mesmerizing, strange performances nor from his repetitive, hypnotic and visionary music.
Originally from New York, where he crossed paths with artists from the Fluxus movement, Tony Conrad, La Monte Young and Terry Riley, it was in California in the 1970s that he pushed his electronic experiments further alongside Morton Subotnick, a pioneering composer in the use of modular synthesizers.
Close to John M Armleder, who he met while living in Geneva in the 1970s, Charlemagne Palestine subsequently collaborated with acts as diverse as Laurie Anderson, Sonic Youth and Pan Sonic. Now based in Brussels, he is constantly renewing his fundamentally experimental, open and total approach to art: he is, in his own words, a '360° artist'.
In the context of It Never Ends, Charlemagne Palestine will occupy part of the Showroom's ground floor for seven months with a performative and collective installation: a monumental carillon, which the artist has transformed into a vast sculpture, somewhere between a mystical object and a futuristic instrument.
Performed by Charlemagne Palestine, but also by various guest musicians, the carillon will sound the opening of the exhibition in September. Throughout It Never Ends, the artist will propose a regular appointment with listeners to experience the unique possibilities of this atypical instrument, so dear to the artist, and which takes him back to the origin of his work, since it was as a carillonneur, in the early 1960s in a Manhattan church, that Charlemagne Palestine began his sonic explorations, already situated at the crossroads of ritual and the avant-garde.