It Never Ends – Sylvie Fleury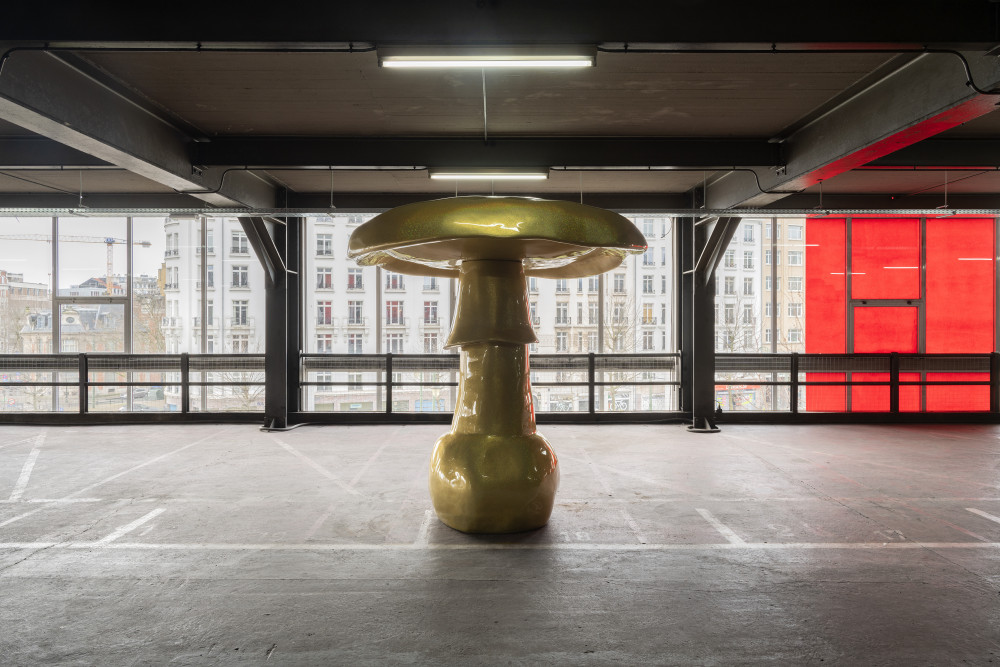 The Swiss artist, a major figure on the international stage since the 1990s, relentlessly creates hybrids of art, fashion and counterculture in her fascinating, ever-evolving oeuvre. For It Never Ends, she presents a huge mushroom in gold resin, which glows in the industrial space of level 2 of the KANAL Showroom.
In 1954, John Cage wrote, 'I have come to the conclusion that much can be learned about music by devoting oneself to the mushroom'. The same is certainly true of sculpture. At least, perhaps as far as Sylvie Fleury is concerned. Ever since she broke into the art scene in the early 1990s by dropping off her Shopping Bags at a gallery in Lausanne (bags from luxury boutiques, filled with her purchases, which became a ready-made piece), this unclassifiable artist, a mainstay of the Swiss scene, has persistently explored the relationship between art and what is external to art, everyday, sculpture and fashion, high art and subcultures.
From Cuddly Paintings (abstract works in bright faux fur) to First Spaceships on Venus (rockets painted in nail-polish colours that play rock songs from girl bands) by way of luxury-brand slogans which become Statements, her oeuvre hijacks and appropriates, not without irony and always to great visual effect, the (male) icons of artistic modernity (geometric abstraction of the early twentieth century, American minimalists and conceptualists, etc.), while incorporating another element that drives her work, i.e. her interest in certain subcultures.
Already represented in It Never Ends, Part 1 with Shoe Shine (1991), a ready-made sculpture made from a utilitarian object originally used to make other objects shine (in this case, shoes), Sylvie Fleury will present a monumental work in the second part of the exhibition conceived by John M Armleder: a resin mushroom more than two metres high. Coated in gold car paint, with spectacular reflections and changing optical effects typical of the paints used in the world of car tuning, Mushroom Autowave Rich-Gold Petzold silber F14 combines the apparent impersonality of industrial mass production with a nature motif.
Oversized, adorned with fascinating colours, filling the industrial space of the Showroom like an apparition, the mushroom alludes to pop culture, the intersection of enchantment and magic, dream and folklore. In this way, it connects the obsession with the finished and polished surfaces typical of 1960s pop and minimalist art with the visions obtained by ingesting hallucinogenic mushrooms, during that same period, in the context of the psychedelic revolution, the development of hippie culture followed by new age, of which John Cage, in his own way, can be considered one of the founders. While walking in the undergrowth around his home, the American composer, to whom Sylvie Fleury may be referring in this work, imagined silent compositions for trees, animals, and mushrooms – another way of imagining a visit to an exhibition, populated, like in a fairy tale, with giant mushrooms and trees that grow from the ceiling …