Paper Lane
Olga de Soto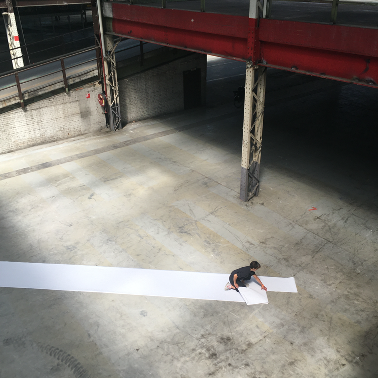 Paper Lane represents an act of resistance in the face of the digital revolution, the profusion of overabundance and high-speed and high-tech life, that destroy the silence necessary for meditation, introspection and reflection. This act is based on the observation of the need for a radical deceleration and is inspired by the book Alienation and Acceleration: Towards a Critical Theory of Late-Modern Temporality by the German sociologist and philosopher Hartmut Rosa.
The performance Paper Lane was conceived during the creation of the show Mirage (2019) whose artwork is the result of a first collaboration with the visual artist Sophie Whettnall. Paper Lane was presented for the first time as part of Sophie Whettnall and Etel Adnan's exhibition La banquise, la forêt et les étoiles (The Ice Field, The Forest and The Stars), at Centrale for Contemporary Art in Brussels, as a fully integrated part of Mirage-displacement, a performative proposal presented in the course of Brussels Art Summit, which shifted the performance Mirage, from theatre to exhibition space.
Biography
Olga de Soto is a choreographer, dancer and dance researcher, born in Valencia and currently living in Brussels. She graduated from CNDC / Centre National de Danse Contemporaine d'Angers. As a dancer, she has worked with choreographers such as Michèle Anne De Mey, Pierre Droulers, Felix Ruckert, Boris Charmatz. She began creating her own choreographic work in 1992, exploring different formats in numerous pieces. Since the end of the 1990s, her choreographies deal specifically with the role of memory in live art. Her recent work mixes the languages of choreography with those of documentary, performance, visual arts, and installation, playing with the porousness of those disciplines.