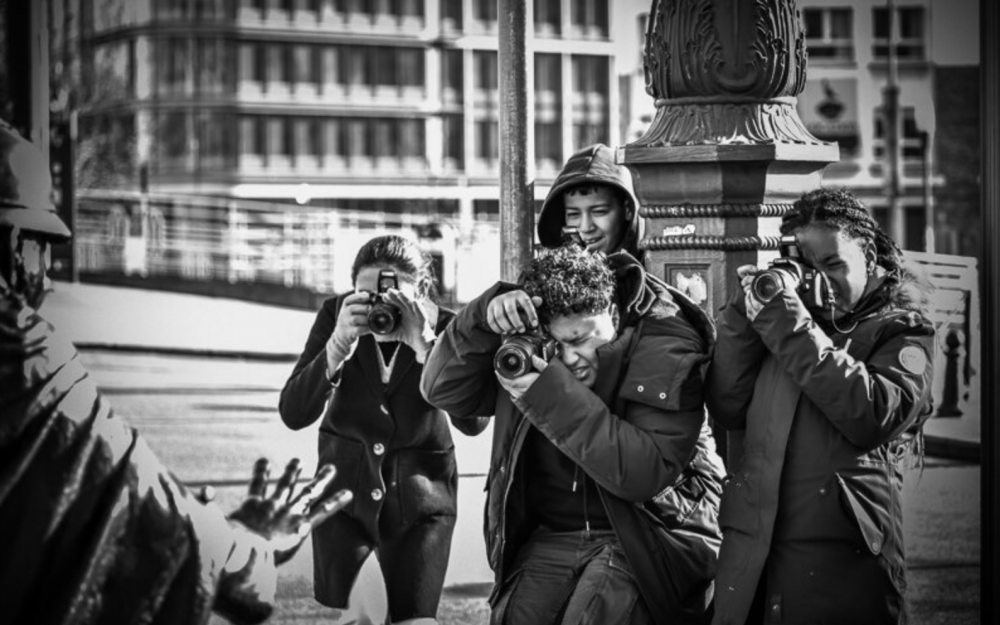 From the city to an open museum
KANAL-Centre Pompidou sees the museum as a shared and participatory territory. For nearly two years, groups of artists, students, collectives, children and people who bring the canal zone to life have been collecting, researching and creating together through different artistic disciplines. Their narratives highlight the various experiences and uses of the city that the museum of tomorrow wishes to represent.
Athénée Royal Toots Thielemans with Françoise Schein
Sous le même ciel
Françoise Schein is known for her ceramic frescoes concerning human rights, and more specifically, the inhabitants of Brussels might be familiar with her installation in the Parvis de Saint-Gilles metro station. Sous le même ciel explores intimate stories that question our divisive society. In 2021, the artist, her team, and KANAL began collaborating over a three-year period with students and faculty members of the Athénée Royal Toots Thielemans in Molenbeek by organising meetings, workshops, visits to cultural venues, and the creation of collective works. After Histoires de Vies, a collective fresco that has been on display in Molenbeek since 2022, the project will continue with the creation of nine new collective works which will trace a path from the heart of Molenbeek to the future museum.
Institut Imelda with Maria Kley
From Brussels to Anywhere
This initiative consists of a series of workshops and labs held during the current school year with Imelda Institute's sixth-year tourism students. Co-creation is at the heart of From Brussels to Anywhere, which will result in a monumental work of art in which the world of travel, imagination, and the students' stories merge. The work will be created for the atrium of the Imelda Institute and will be unveiled in June 2023.
This project has received the support of the Embassy of the Kingdom of the Netherlands in Belgium.
ToekomstATELIERdelAvenir (TADA) WITH Larissa Vanhee
Het openluchtmuseum
The Open Air Museum offers a chance to discover the KANAL district from a child's perspective. A group of children, cameras in hand, snap the neighbourhood as if it were an art exhibition. This photography workshop is part of the wide range of extracurricular activities programmed by TADA.
Forsiti'A, De Markten, Hobo et Link=Brussel with Younes Baba-Ali
Sirens
The artist Younes Baba-Ali explores Brussels through sound. He isolates the sounds of order, power, and surveillance, such as police sirens, and sabotages them with humour. In a series of workshops, the artist imagines new subversive soundscapes in collaboration with the people who inhabit the streets of the capital. Papa Jean Marie's police megaphone broadcasts funny jokes rather than authoritative noises, while a group of young Brussels residents sing along to the sound of sirens.