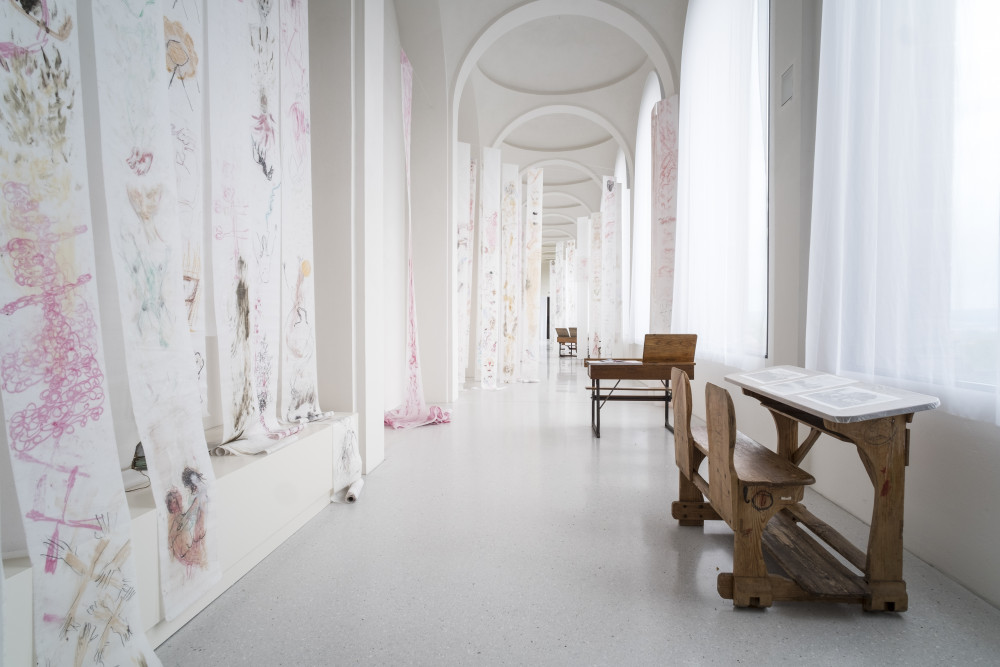 KANAL EXPANDS ITS COLLECTION
As the transformation of the iconic Citroën garage into a 21st century museum progresses, the KANAL Foundation is acquiring a collection of works from contemporary artists living and working in Brussels and Belgium, emphasising its ambition to reflect the contemporary art scene and its complexity. With works by 6 artists: Aline Bouvy, Manon de Boer, Pélagie Gbaguidi, Hana Miletić, Joëlle Tuerlinckx, and Sophie Whettnall, KANAL adds to its collection a series of large-scale installations, often encompassing various media, marking its commitment to interdisciplinarity and experimentation.
Representative of this approach is the acquisition of Joëlle Tuerlinckx's iconic work Stukjes Stukjes en dingen, Dingen Dingen en stukjes / Territoire confetti (1993 – ongoing). The work is a protocol for creating a sculpture out of paper leftovers (confetti generated with hole punches) from materials derived from the museum's offices and archives. Originally conceived in 1993, it has been restaged in numerous institutions, taking on different ephemeral forms with each incarnation. Similarly challenging for an institutional collection is Manon de Boer's work, recently created for Museum Dhondt-Dhaenens as part of the artist's exhibition "Blindsight" (February – May 2022). The site-specific sound- and object-based installation stemming from de Boer's collaboration with choreographer Latifa Laâbissi and musician Laszlo Umbreit will be reconfigured for one of KANAL's future galleries once the building is finished. KANAL has also acquired de Boer's film one, two, many (2012), while another work by the artist, Dissonant (2010), has been placed in the collection as a permanent loan.
Through humour, poetry, and the grotesque Aline Bouvy's Potential for Shame (2022), Urine Mate II (2016) and Strategy of Non-Cooperation VI (2016) question the dominant patriarchal and capitalist discourses. The group of works is typical of the artist's attempts to disturb the limits between good and bad taste, and offer an alternative reading of the world we live in. La banquise (2019), Sophie Whettnall's largest work to date, explores the concepts of landscape, light, and repetition which are central to her work, as is the deliberate use of everyday materials. As an immersive and interactive installation, it places the audience at the centre of the works. A different approach to participation is manifested in Hana Miletić's Felt Workshops I-XI (2018-2020). The installation is the result of felt workshops organised with women of immigrant backgrounds held at Brussels-based organisation Globe Aroma and Viennese Vereinigung für Frauenintegration Amerlinghaus. Part of the proceeds from the sale of the works will support these associations.
Finally, KANAL acquired a signature work by Pélagie Gbaguidi, an installation entitled The Missing Link. Decolonisation Education by Mrs. Smiling Stone (2017) encompassing 60 large-scale drawings, multiple archival photographs, objects, and film footage, which was prominently presented at documenta 14 in 2017. Gbaguidi has generously gifted another, more recent work, Care (2019-2020), to complement KANAL's purchase.
All KANAL collection acquisition candidates are scrutinised by KANAL's artistic team as well as an acquisition committee consisting of external experts. From 2023, the committee will include two new members: Diana Campbell and Daniel Blanga-Gubbay. Both Brussels-based, they bring wide expertise from various fields. As chief curator of the Dhaka Art Summit and founding artistic director of the Samdani Art Foundation, Diana Campbell contributes her transnational experience in curating and her in-depth knowledge of the global art market. Daniel Blanga-Gubbay, artistic co-director of Kunstenfestivaldesarts, specialises in performance and live art, which are crucial to KANAL's mission.
KANAL's collection currently includes works by 33 international artists living and working in Belgium. Reflecting KANAL's commitment to interdisciplinarity, the collection embraces all media, from painting, sculpture, drawing, and print to photography, film, video, installation, performance, and archival material. It aims to represent the diversity of the Belgian artistic scene and the complexity of contemporary art practices. KANAL seeks to make this ever-growing collection accessible to a broad audience. As such, the artworks will form an essential part of the future programme and loans to other institutions as well as a strong presence online will serve the same purpose. All information on the collection, including information about the artworks and interviews with the artists, can be found on the website.