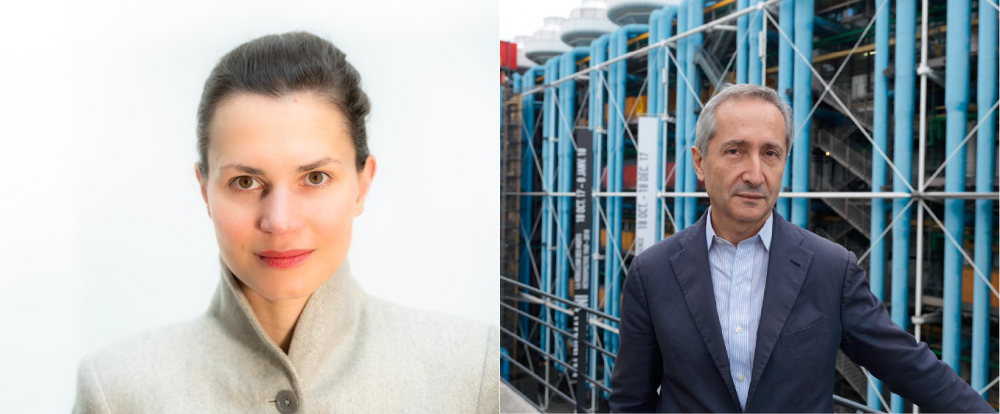 A collaboration to define the artistic future of KANAL
Press release 21.06.2021
On Monday June 21st, the Board of Directors of the KANAL Foundation has appointed unanimously Kasia Redzisz and Bernard Blistène to collaborate on the definition of KANAL's artistic future. Kasia Redzisz is currently Senior Curator at Tate Liverpool while Bernard Blistène is Director of the Musée National d'Art Moderne-Centre de Création Industrielle du Centre Pompidou.
This decision of the Board was based on the professional and rigorous work of a jury composed of six national and international experts and four members of the Board.
"This collaboration is the perfect synthesis of what KANAL needs: a fresh look and a new multidisciplinary artistic sensitivity for the long term, and the guarantee of continuing what has already been successfully undertaken to build this 21st century museum hand in hand with the Centre Pompidou until 2027", rejoices Michèle Sioen, President of KANAL and the jury.
Kasia Redzisz, Senior Curator at Tate Liverpool, graduated in Art History from the University of Warsaw. In 2005, she joined the Museum of Modern Art in Warsaw as Assistant Curator. From 2008 to 2015, she directed Open Art Projects, an art organisation internationally recognised as one of the most innovative in Poland. From 2010 to 2014, Kasia Redzisz was Assistant Curator at Tate Modern in London before joining Tate Liverpool as Senior Curator. Her independent work includes many interdisciplinary projects, most recently the inaugural exhibition of Muzeum Susch (2019) and the fourth edition of the Art Encounters Biennial (2021). Her exhibitions and acquisition policy have been applauded by critics. Kasia Redzisz advocates an experimental and interdisciplinary approach to new formats and audiences.
   
Bernard Blistène, current Director of the Musée national d'art moderne - Centre de création industrielle du Centre Pompidou, has been working over the past three years on the artistic programming of KANAL-Centre Pompidou, of which Kanal Brut (2018) and It never ends (2020) were two highlights. In 1990, he became Director and Chief Curator of the Musées de Marseille. After a working at the Ministry of Culture as Inspector General of Artistic Creation, he returned to the Centre Pompidou in 2008, first as Project Manager, then as Director of the Department of Cultural Development, and finally as Director of the Musée national d'art moderne in 2013.
    
This nomination process follows the call for applications launched in December 2020 in Belgium and abroad. More than 30 applications, both Belgian and international, were received and carefully analysed. After selecting 7 applications (15 March), the jury conducted a full day of interviews (9 June) to recommend 3 candidates to the Board of Directors of the KANAL Foundation.  
The Board would like to congratulate the other candidates for the quality of their applications.
Kasia Redzisz and Bernard Blistène will take up their positions after the summer and can count on the collaboration of Anna Loporcaro, Deputy Artistic Director in charge of audiences and partnerships at KANAL-Centre Pompidou since January 2020. They will work with the KANAL team to build the museum of tomorrow, to raise awareness and include new audiences and to promote the local, national and international presence of KANAL-Centre Pompidou, which is due to open its doors before the summer of 2024.
Members of the Jury:
Michèle Sioen (President of the Board of Directors of Fondation KANAL)
Yves Goldstein (Director, Project management Director)
Isabel Raemdonck (member of the Board)
Hervé Charles (member of the Board)
Emma Lavigne (Palais de Tokyo – external expert)/Alexia Fabre (director MAC VAL – external expert)
Nikolaus Hirsch (Artistic Director of CIVA - external expert)
Bambi Ceuppens (Africa Museum – external expert)
Iwona Blazwick (Whitechapel Art Gallery – external expert)
Jan Goossens (Festival de Marseille – external expert)
Manuel Borja Villel – Manolo (Museum Reina Sofia – external expert)
Members of the Board of Directors:
Michèle Sioen, President
Yaron Pesztat, Vice President
Alain Berenboom
Laurent Busine
Hervé Charles
Paul Dujardin
Yves Goldstein
Willem Elias
Denis Laoureux
Stéphanie Pecourt
Isabel Raemdonck