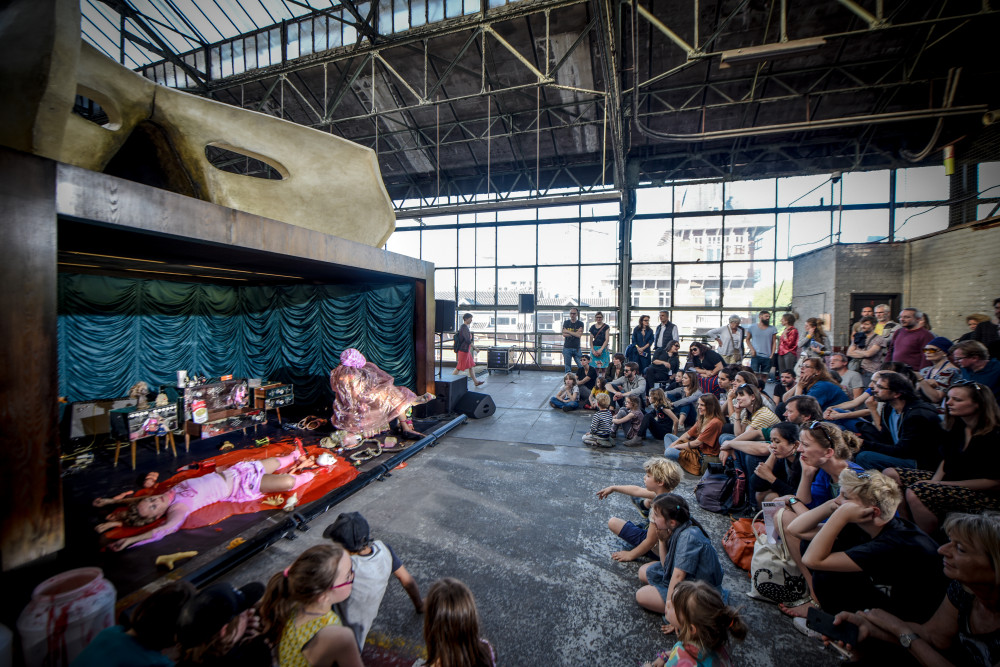 FESTIVAL KANAL
A festival for the closing of KANAL BRUT
From 21 to 30 June 2019, KANAL BRUT, which for 14 months saw the former Citroën garage serve as an exhibition and performance space under the general curatorship of the Centre Pompidou, will end on a high note with the multidisciplinary FESTIVAL KANAL.
FESTIVAL KANAL will offer the public new and unforgettable moments. A neighbourhood party on the first evening, two nights at KANAL, including the Ambient Night which will let a hundred fans sleep on site, and KANAL FABRIK - the night of Creation during which young creators will take over the former garage. Ultima Vez will get the public to dance with Invited, and the spotlight will also be on music with, among others, a live performance by Gas, the project of Wolfgang Voigt, one of the founders of the Kompakt label.
This closing festival will also be an opportunity to discover or rewatch some of the best performances and artistic installations programmed since 5 May 2018: Gaëtan Rusquet with Meanwhile, Jocelyn Cottencin with a new format of Monumental, Ola Maciejewska's Loie Fuller: Research, Katerina Andreou's BSTRD, La compagnie du Zerep and, for the first time in Brussels, Sister Ship Live by Maxime Rossi. Music will occupy an important place with the Basic Moves collective, a selection of artists by Culte Agency and the Kompakt label. DJs associated with this label will also be present, including Michael Mayer and Tobias Thomas, as well as more avant-garde musicians, including Oren Ambarchi & Will Guthrie and Masayoshi Fujita.
Michel Gondry's Home Movie Factory will exceptionally be open during KANAL FABRIK -the night of Creation that will take place during the night of Saturday 29 June to Sunday 30 June. The exhibitions will also be accessible during the festival. An auction of items from the Citroën garage will also be held.
A closing festival in the image of the 14 months of KANAL BRUT!
FESTIVAL KANAL
21 > 30.06.2019
KANAL - Centre Pompidou
Open every day as from 12h00