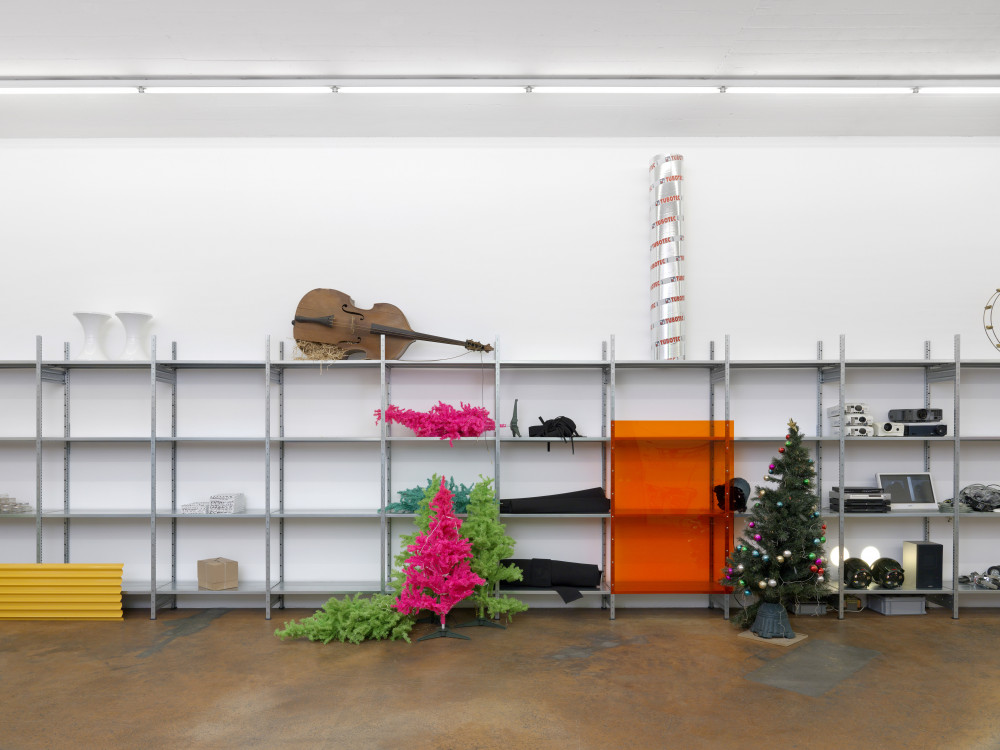 It Never Ends - John M Armleder & Guests
Press release 18.08.20
From 24 September 2020 to 25 April 2021
Originally scheduled for spring 2020, It Never Ends, carte blanche to John M Armleder, will now open in a revised and extended version on 24 September. The Swiss artist will take over the six floors of the Showroom for a period of seven months, before conversion works take place and before the reopening of the premises. This vast interdisciplinary project, entrusted to one of the major artists of the contemporary arts scene, is the confirmation of KANAL-Centre Pompidou's commitment to experimentation and openness.
John M Armleder who was born in 1948 and who lives and works in Geneva, is a painter, sculptor, designer of installations, performer, archivist, curator, collector, editor, bookseller, gallery owner and lots more. As such he has been one of the defining figures of the art world during the past fifty years. KANAL-Centre Pompidou invited the artist to take over the premises of the Showroom of the former Citroën garage for a period of seven months. In the six empty floors, Armleder has set up a dialogue with a series of monumental installations, conceived specifically for this space thus offering audiences a constellation of exhibitions, events and meetings so that they have the opportunity to plunge into his universe as well as that of those near and dear to him.
It Never Ends is a multi-dimensional artistic project that is vital and in constant movement. It is certainly the most important challenge that Armleder has been invited to conceive to date and presents a paradox; it is a personal exhibition, but at the same time one that invites the works of more than a hundred artists; a vast art exhibition, many of which are fleeting, and sometimes even invisible. It may give the impression of being like the ideal museum, but it is above all an experimental, interdisciplinary and polyphonic project. It is, in short, a 'Chinese Portrait' of the person who conceived it, for whom notions of hospitality, collaboration and friendships have always played a key role.
Public Space
The exhibition is organised around a public space that covers the first two floors of the building and that is accessible for seven days a week with no admission fee. Once inside, the entrance the artist has allowed for a restaurant, a place to listen and meet, with at its heart a new installation made with worksite scaffolding, plants, lights, screens… Like an exhibition within an exhibition, it connects the ground floor and the first floor where the artist has produced one of his most important furniture sculptures on site. An experimental library (designed and produced in collaboration with the CIVA Culture and Architecture Centre), a temporary printing-press offering workshops for visitors of all kinds and a co-working place complete this public space, all free of charge.
Monumental installations, temporary exhibitions and a programme of live events
It Never Ends continues over the four floors above: each of the spectacular industrial floors of the Showroom is taken over by Armleder in a distinct and specific style. Inside, in combination with a series of immersive art installations, the artist offers a programme of exhibitions that he himself has conceived and staged. These projects comprise invitations to other artists as well as presentations of different collections.
Armleder's project that will be split into two main parts (September-December 2020, February-April 2021), will be launched by an important programme of live projects featuring concerts, performances, projections, meetings and workshops, all conceived in dialogue with the artist. The project, that is structured around meetings that will take place on Thursday evening and at the weekend, with specific live events, practical activities for all types of audiences as well as visits, will be punctuated by four themed weekends with a more intense programme that is designed to offer a more in-depth experience of the main underlying themes of the exhibition.
Hospitality
From the moment that It Never Ends was conceived until now, the situation, the artistic context and our lives have all been turned upside down. This is why not only has the artist's project been reprogrammed, but KANAL-Centre Pompidou has also decided to include a moment of pause, reflection and open exchange in January between the two parts in order to take time to address the urgent questions of the moment. We will discuss the future and the changes that are called for, the role of museums today and of KANAL-Centre Pompidou as a future space for art, in particular through the key notions of community, knowledge and 'hospitality.
Commissioners
Bernard Blistène, Director, Centre Pompidou, Chief Commissioner
Yann Chateigné, Associate Commissioner, KANAL-Centre Pompidou
Anna Loporcaro, Assistant Art Director in charge of Audience development & Partnerships, KANAL-Centre Pompidou
Guy Gypens, Programmer, Live Performances, KANAL-Centre Pompidou
Alain Benisty, Music Programmer, KANAL-Centre Pompidou
Jonathan Pouthier, Conservation attaché at the Film Collection Department of the National Museum of Modern Art, Centre Pompidou, Paris
Practical information
Dates:
It Never Ends, Part 1: 24 September - 27 December 2020
It Never Ends, Part 2: 4 February – 25 April 2021
(January): 4 - 31 January 2021
Opening weekend:
Thursday 24 to Sunday 27 September 2020
Themed weekends:
For each new exhibition conceived by John M Armleder, KANAL-Centre Pompidou will hold a theme weekend:
15 - 18 October 2020: Silent Room
3 - 6 December 2020: Red Room
4 - 7 February 2021: Flux Room
18 - 21 March 2021: Room Room
Guided Tours:
DISCO visits (45')
Thursday at 19h00 (NL), 19h30 (EN), 20h00 (FR)
Visit'ALL (90')
Sunday 14h00 (NL), 15h00 (EN), 16h00 (FR)
Opening hours:
Exhibition
(Showroom 2 – 5)
Thursday 24 September 2020 — Sunday 25 April 2021
Friday – Sunday, 11h00 - 19h00
Late night opening: Thursday 11h00 - 22h00
Public space
(Admission free: Showroom 0 – 1)
Thursday 24 September 2020 — Sunday 25 April 2021
Every day: 08h00 – 20h00
Late night opening: Thursday 08h00 – 22h00