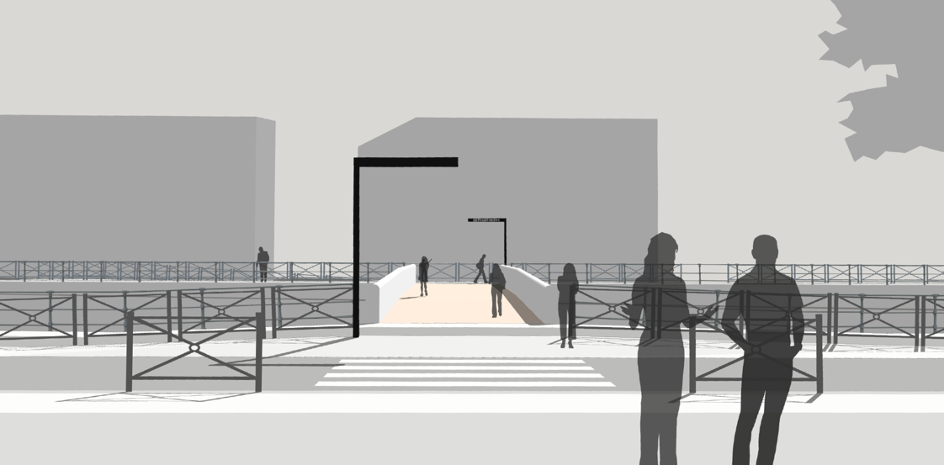 'Kontexte', a project by the Brussels collective LAb[au].
Artistic intervention on the new footbridge Loredana Marchi
KANAL has been commissioned by Beliris to create an artistic happening on the new footbridge Loredana Marchi over the canal ABC.
The Brussels collective LAb[au], made up of Els Vermang, Manuel Abendroth and Jérôme Decock, was selected. Together they question the notion of aesthetics and semiotics through algorithmic and conceptual thinking while playing with geometry, color, light and movement.
For the footbridge that connects the two banks of the canal, LAb[au] has come up with the Kontexte project.The auto-poetic Kontexte work acts as a reflection on the spatial dimension of language in urban landscapes. Kontexte is a modular project that consists of a series of lighting elements that generate words in 16-segment display units. A 'logbook' collects the generated words from Dutch, French, and German dictionaries.
LAb[au] (laboratory for architecture and urbanism) conducts research into semantics (art and language), semiotics (art and sign) and aesthetics (art and meaning). This research takes account of the current context, which is characterised by changing forms of expression. The changes in terms of signs and language are mainly the result of information technology, but also have its roots in conceptual art. LAb[au]'s works have been shown at Kunsthal (Kunsthal, 2019), Musée d'Art Contemporain (Montreal, 2015), MOMA (New York, 2014), Biennale di Venezia (Venice, 2013), Seoul Museum of Art (Seoul, 2013), Witte de With (Rotterdam, 2006). It has created several works for public spaces namely at Quai 10 (Charleroi, 2016). Its works appear in public and private collections all over the world.
KANAL-Centre Pompidou, the future centre for modern and contemporary art, has set itself the goal of supporting and promoting the Belgian and international art scene by proposing a cultural programme that is accessible to all and that focuses on exchanges with the public. To achieve this KANAL ventures beyond its own walls and organises and participates in cultural projects around the city.
in progress...