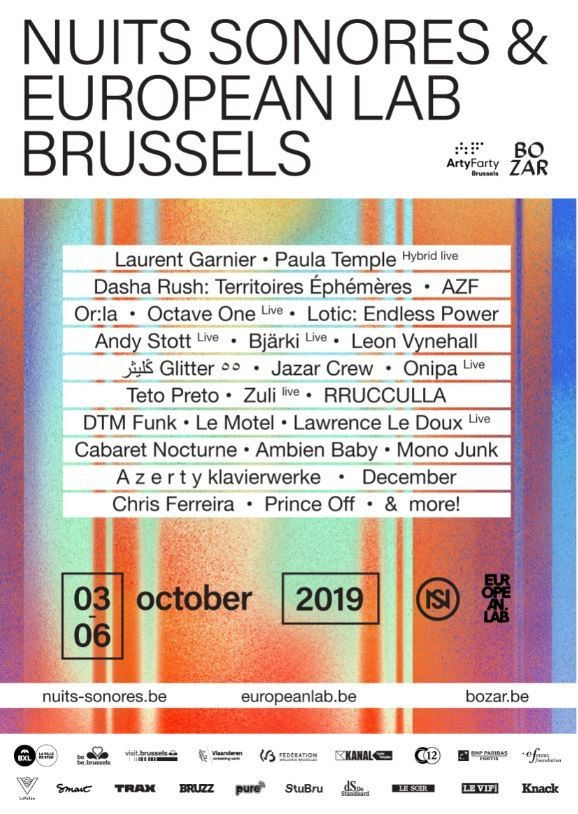 LINE-UP COMPLETED NUITS SONORES AND EUROPEAN LAB BRUSSELS
3 - 6 October 2019
Nuits sonores & European Lab Brussels is an innovative urban festival with a local and international line-up, numerous debates and much more. The musical component of this third edition has just been updated to include such names as Teto Preto, DTM Funk & Le Motel, in addition to the previously confirmed headliners Laurent Garnier and Paula Temple. The debates will focus on the connections between activism and art, around the climate and the occupation of temporarily vacant buildings. As a bonus, there are countless free fun activities such as the Disco Kids in the Recyclart, for the party animals of the future.
 
A first for this edition is the partnership with the renowned Brussels event Nuit Blanche on Saturday 5 October. Festivalgoers can visit the famous trail with special digital installations and creations in Thurn & Taxis and continue the evening on the Nuits sonores dancefloors at KANAL - Centre Pompidou, LaVallée and Be-here.
The participation of Be-Here (formerly Byrrh) is another surprise. This centre of sumptuous industrial architecture will host a musical event for the first time. To reflect its local activity, Nuits sonores Brussels invited Culte Agency to program Belgian artists: Le Motel, DTM Funk, Mika Oki, Zeta Lys.
As well as this new cluster of locations in the Canal Zone, we're launching a new format on Sunday 6 October: Closing Day. The closing party starts at 4 pm at KANAL - Centre Pompodiou and Laurent Garnier will man the turntables with the last sunbeams of the weekend, for a 4-hour DJ set.
However, the festival starts off on Thursday 3 October with performances by Ana Caprix & Daniel Swan, Oli XL in BOZAR. Friday 4 October once again brings the BOZAR Take Over in which the Centre for Fine Arts undergoes a metamorphosis. The four stages will host artists from a wide range of genres: experimental talent like Zuli and RRUCCULLA; solid, dependable names including a live hybrid of Paula Temple and Octave One in the Henry Le Boeuf Hall, which will be converted into a huge dance venue. The Brusselaars are in attendance, with Chris Ferreira and A z e r t y klavierwerke. Glitter and Jazar Crew will provide the oriental vibes. 
Activism is at the heart of European Lab Brussels. Juliette Rousseau and collectives as Extinction Rebellion will talk about their climate campaigns. Activism in art and club culture is the theme on Friday 4 October, including a look at the Palestinian underground scene and discussions on an afrocentric view of African art in the scope of the 'IncarNations' exhibition. There is also a battle underway to make temporarily vacant buildings in the city available for use. Communa, who are championing the idea, and Brussels state secretary Pascal Smet will discuss the situation in Brussels. In addition, the French philosopher Bernard Stiegler will be in attendance, as will historian Orlando Figes presenting his new book, 'The Europeans'.
PROGRAMME
16.00-22.30: European Lab Brussels 2019
20.00-23.00: Opening concerts w/ Ana Caprix & Daniel Swan, Oli XL
23.00-06.00: Afterparty @ C12 w/ Or:la, Bjeor & Liyo & Steff, Bjeor (H E 4 R T B R O K E N)
16.00-21.00: European Lab Brussels 2019
20.00-04.00: BOZAR Takeover w/ Dasha Rush: Territoires Éphémères, Paula Temple Hybrid live, Octave One live, Andy
Stott live, ڭليثر Glitter٥٥, Jazar Crew - فريق الجزر, TETO PRETO, ZULI live, ONIPA, A z e r t y klavierwerke, Chris Ferreira
& Rokia Bamba
00.00-07.00: Afterparty @ C12 with Bjarki live, Leon Vynehall, Mono Junk, Lola Haro, Gurl & Caspro
14.00-20.00: Extra! / free events in the city
15.45-20.00: European Lab Brussels 2019
19.00-07.00: The Loop x Nuit Blanche Brussels around Tour & Taxis:
KANAL - Centre Pompidou : Lotic: Endless Power, DJ AZF, December & Cabaret Nocturne
LaVallée x Under My Garage: Ambien Baby (D. Tiffany & NAP), Lawrence Le Doux live & Rey Colino
Be-Here: DTM Funk, Le Motel, Mika Oki & Zeta Lys
11.00-14.00: Extra! / free events in the city (Disco Kids)
16.00-00.00: Closing Day @ KANAL - Centre Pompidou with Laurent Garnier & Prince Off