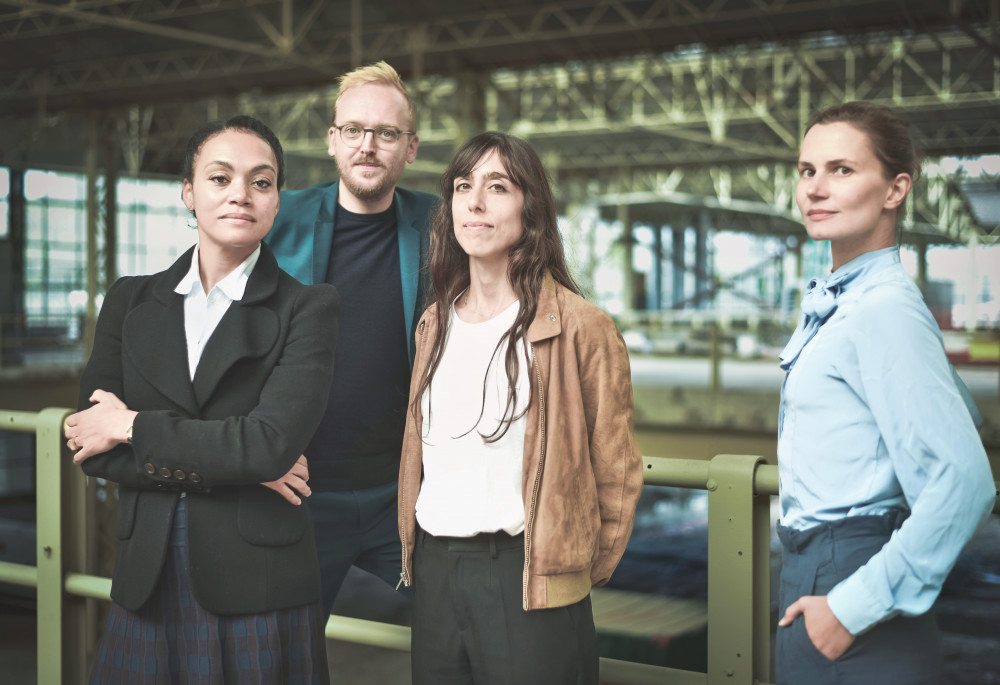 New curatorial appointments at KANAL-Centre Pompidou
Press release 05.10.2022
KANAL is delighted to announce its new curatorial appointments. Devrim Bayar has been named Senior Curator, Exhibitions and Research. She will work closely with Artistic Director Kasia Redzisz to conceptualize, develop, and execute the programme for the new institution. Bas Hendrikx has been appointed Curator, Participation and Engagement. Together with Anna Loporcaro (Deputy Artistic Director in charge of audience development and partnerships) he will work with the team on growing and cultivating KANAL's audience, expanding the accessibility of the programme, and strengthening the institution's ties with local communities and organisations. Additionally, doctor Sandrine Colard, an art historian specializing in postcolonial studies and modern and contemporary African arts will be joining KANAL as Curator-At-Large. In her expert role she will support the curatorial team in developing the programme, setting it in the context of transnational debates and providing specialist advice in her areas of expertise for all aspects of the museum's activities.
 
With the appointment of Devrim Bayar, Sandrine Colard, and Bas Hendrikx, KANAL solidifies its curatorial team to set the future direction for the institution in the run-up to its opening.
 
Following the appointment of Kasia Redzisz as the first Artistic Director last year, the creation of the three new curatorial roles marks another key moment for KANAL. As the programming team expands, we are entering a formative phase of preparations for the inauguration of the museum. Together, we will work towards establishing a cutting-edge artistic profile, while collaborating with our many constituents on embedding KANAL in its locality and social context. Yves Goldstein, CEO
 
Artistic Director Kasia Redzisz states: Devrim, Sandrine and Bas bring a variety of experiences and fresh perspectives fundamental to KANAL's future direction. Their expertise combined with deep commitment to visionary artistic practices and building a more inclusive canon will help define the new institution. I am thrilled to be working with them to further develop the vision for KANAL.
-
Devrim Bayar is joining KANAL from WIELS Contemporary Art Centre in Brussels, where she has been a curator since 2012. During her time at WIELS, she curated exhibitions of artists such as Wolfgang Tillmans, R.H. Quaytman, Huguette Caland, René Daniëls, Sammy Baloji, Helena Almeida, among others, as well as major group shows, including Something Stronger Than Me, exploring recent developments in collaborative art practices. Bayar also organized a series of exhibitions Un-Scene featuring emerging artists working in Belgium. A Brussels native, she was the founding director of the editorial and curatorial platform Le Salon, dedicated to the local art scene, between 2011 and 2016. Her independent curatorial projects include the multi-disciplinary festival Indiscipline at Palais de Tokyo (2016) and the Geneva Biennale — Sculpture Garden (2022). Bayar is an author and editor of numerous publications and exhibitions catalogues, most recently a monograph Jacqueline de Jong, The Ultimate Kiss (Fonds Mercator, 2021). Her research interests include the intersection of alternative music and art scenes as well as non-Western modernisms.
Sandrine Colard is an art historian and curator specializing in transnational histories of art, postcolonial studies, and modern and contemporary African arts. She is assistant professor of art history at Rutgers University, Newark (US) and held postdoctoral fellowships at the Institut National d'Histoire de l'Art in Paris, the NYU Tisch School of the Arts, and the Getty Center in Los Angeles, among others. Colard's curatorial projects include Recaptioning Congo (FOMU, Antwerp, 2022), Congoville (Middelheim Museum, Antwerp, 2021), The Way She Looks: A History of Female Gazes in African Portraiture. Photographs from The Walther Collection (Ryerson Image Center, Toronto, 2019), Multiple Transmissions: Art in the Afropolitan Age (WIELS, Brussels, 2019) and The Expanded Subject: New Perspectives in Photographic Portraiture from Africa (Wallach Art Gallery, New York, 2016). In 2019, Colard was the artistic director of the 6th edition of the Lubumbashi Biennale. She is an author of numerous essays and publications. Her current book project examines the history of photography in the colonial Congo (1885-1960).
Bas Hendrikx is a curator focusing on participative practices, digital art, and queer art histories. In 2017 he co-founded Kunsthalle Amsterdam where he worked as artistic director until 2020. Prior to that between 2013 and 2016 he was curator at P/////AKT in Amsterdam. Hendrikx curated and organised numerous exhibitions and programmes for institutions such as BOZAR, the ULAY Foundation, Het Nieuwe Instituut, Garage Rotterdam, Skulptur Bredelar, De Appel arts centre, Stedelijk Museum Amsterdam, and Inter/Access. In 2019 he also served as artistic director of Art on Paper in Brussels. Hendrikx is the editor of Authenticity?: Observations and Artistic Strategies in the Post-Digital Age (Valiz, 2017). He is currently working on Queer Exhibition Histories, an anthology of texts to be published by Valiz in 2023..
KANAL-Centre Pompidou is a new museum of modern and contemporary art in Brussels. The museum has been established by the Brussels Capital Region and is developed and managed by the KANAL Foundation in partnership with the Centre Pompidou. Situated in a converted Citroën factory in the centre of the city, the 40 000 m² building is designed by noArchitecten (Brussels), EM2N (Zurich) and Sergison Bates architects (London). In the leading up to its opening, KANAL is developing an interdisciplinary programme of exhibitions, performances, new commissions and events with local and international partners. Alongside the programme the museum is building a collection focusing on contemporary art by artists living and working in Belgium. In 2022 KANAL launched its temporary venue called K1.
press enquiries:
Dieter Vanthournout
Communications Manager

+32 497 901 251