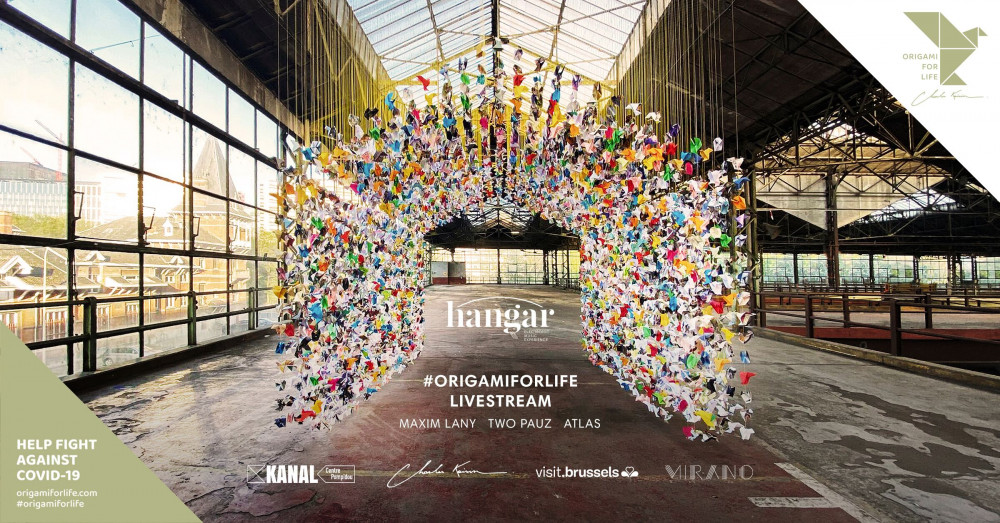 #OrigamiForLife Livestream
Thursday 23rd April
Hangar x KANAL - Centre Pompidou 
To support the artistic and participative action "Origami For Life", imagined by the designer Charles Kaisin, the indoor festival Hangar and the KANAL-Center Pompidou joined forces by organizing a livestream of three DJ sets this Thursday, 23rd of April. The aim of the #origamiforlife action is to support the efforts of ULB, the Fonds Erasme and the Fondation ULB to finance COVID-19 units, as well as the research for treatments at the Erasme Academic Hospital.
Charles Kaisin invited the public to fold an origami from a sheet of paper with the help of an online tutorial. For each origami received, the partners of the campaign (Fondation Engie and many other private patrons) have pledged to pay 5 euros to the Fonds Erasme. € 52,211 has been raised to date.
The gathered origamis are gradually installed at the KANAL-Centre Pompidou and are taking the form of a large house. Under this installation, the three young Belgian artists, Maxim Lany, Two Pauz and Atlas, will be on the turntables from 6.00pm to 9.00pm on Thursday the 23rd of April, for a live broadcast on social medias.
The mobilization will allow the hospital to carry out its transformation of its hospitalization units in adequate non-intensive Covid-19 units. The construction of a unit comprising all the necessary equipments costs 50.000 euros.
PROGRAM
18:00 ATLAS music
19:00 Two Pauz
20:00 Maxim Lany
PRACTICAL INFORMATIONS


Where? At your home.
When? Thursday, 23rd of April 

Where can I watch it live?
How can I help? 

By sharing the livestream on Facebook
By making origami following the online tutorial (www.origamiforlife.com) and depositing them in designated boxes in participating pharmacies and supermarkets or by sending them directly by post to the following address: Atelier Charles Kaisin - 36 Quai du Commerce, 1000 Brussels
By making a donation on the account BE79 2100 4294 0033 - l'Université Libre de Bruxelles (Avenue Franklin Roosevelt 50 - 1050 Bruxelles) - communication « Origami for Life ». A tax deductibility attestation is available for every donation over 40 euros.
You can drop origamis off in the collect points until the end of Mei 2020. 
Let's show our support! www.origamiforlife.com