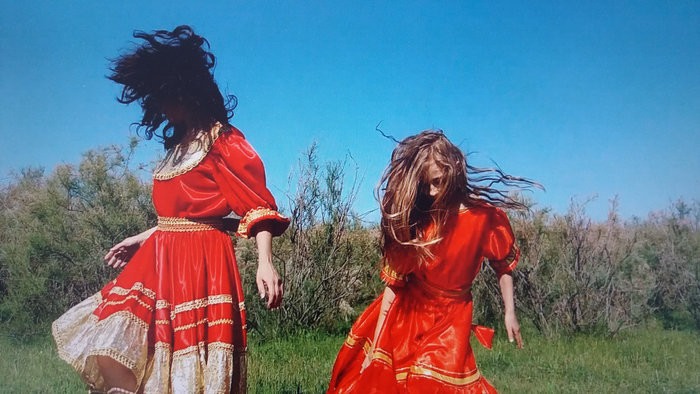 Europalia Curator's Award: HIT
For the third edition of this unique prize, curator Els Vermang prepares a HIT with artist Claudia Radulescu!
HIT, a collaboration between Belgian-Romanian artist Claudia Radulescu and Belgian curator and artist Els Vermang, is a project in which music, visual arts, and avant-garde pop culture effortlessly fuse together. Within the framework of the EUROPALIA CURATOR'S AWARD, the project's exhibition will take place at KANAL - Centre Pompidou from December 2019 until January 2020.
IMPOSTURE, the title Claudia Radulescu gave to her hit in the making, got its name, not from its musical foundations, but from a short scene filmed in Romania: two girls dance in a field, drenched in early- spring sunshine; their red dresses and long hair dance to the rhythm of their movements. With these visuals in mind, Claudia Radulescu guided the musicians, composers, and producers involved in the track's composition.
The utopian character of these images stands in stark contrast to the song lyrics, which depict the deception of a streamlined and strategic capitalist society of which the protagonists eventually free themselves.
A systematic and conceptual analysis of the HIT track was the starting point for Els Vermang's installation titled MPSTR. Inspired by the rhythm of the song and the atmosphere of the video, the installation aims to deconstruct the IMPOSTURE into both a graphic and spatial musical score. A horizontal notation, which combines movement and sound will be interrupted by a series of signs, motifs, and objects. The sheet score used in the exhibit space will be taken from the CD sleeve of IMPOSTURE.
The exhibition will also unveil the partners of the project: EUROPALIA and KANAL-Centre Pompidou, musicians, producers, press agencies, record labels, radio stations, and journalists.
CREDITS
Music: Claudia Radulescu, Lisa Barros Greindl, Michel Hatzigeorgiou / Composition: Michel Hatzigeorgiou, Zedel Ardilla & Lisa Barros Greindl, Daan Stuyven, Marc & Maxime Wathieu, Henri Greindl / Mix & Mastering: Maxime Wathieu / Production: Claudia Radulescu & Marc Wathieu / Video clip: Claudia Radulescu / Camera: Velcu Madalina & Ramona Munteanu, dancer: Malina Maxim / costumes: Sulina Folkloric Ensemble, Delta du Danube (RO) / Montage: François Jacques
Installation, album cover, posters: Els Vermang
Imposture : release 14 juin 2019 - Ailleurs records
Remixes and other music collaborations in December 2019 during the exhibition HIT at KANAL – Centre Pompidou
Venue: KANAL – Centre Pompidou
Curator: Els Vermang
Production: EUROPALIA
In 2015, the EUROPALIA Festival launched the EUROPALIA Curator's Award in celebration of its 45th birthday. The award aims to give financial and logistic resources to a young (group of) curator(s) to collaborate with artists of her/his/their choice. The upcoming edition of the EUROPALIA Curator's Award will revolve around the subject 'Centres & Peripheries' and its meaning in a Romanian and European historical context.