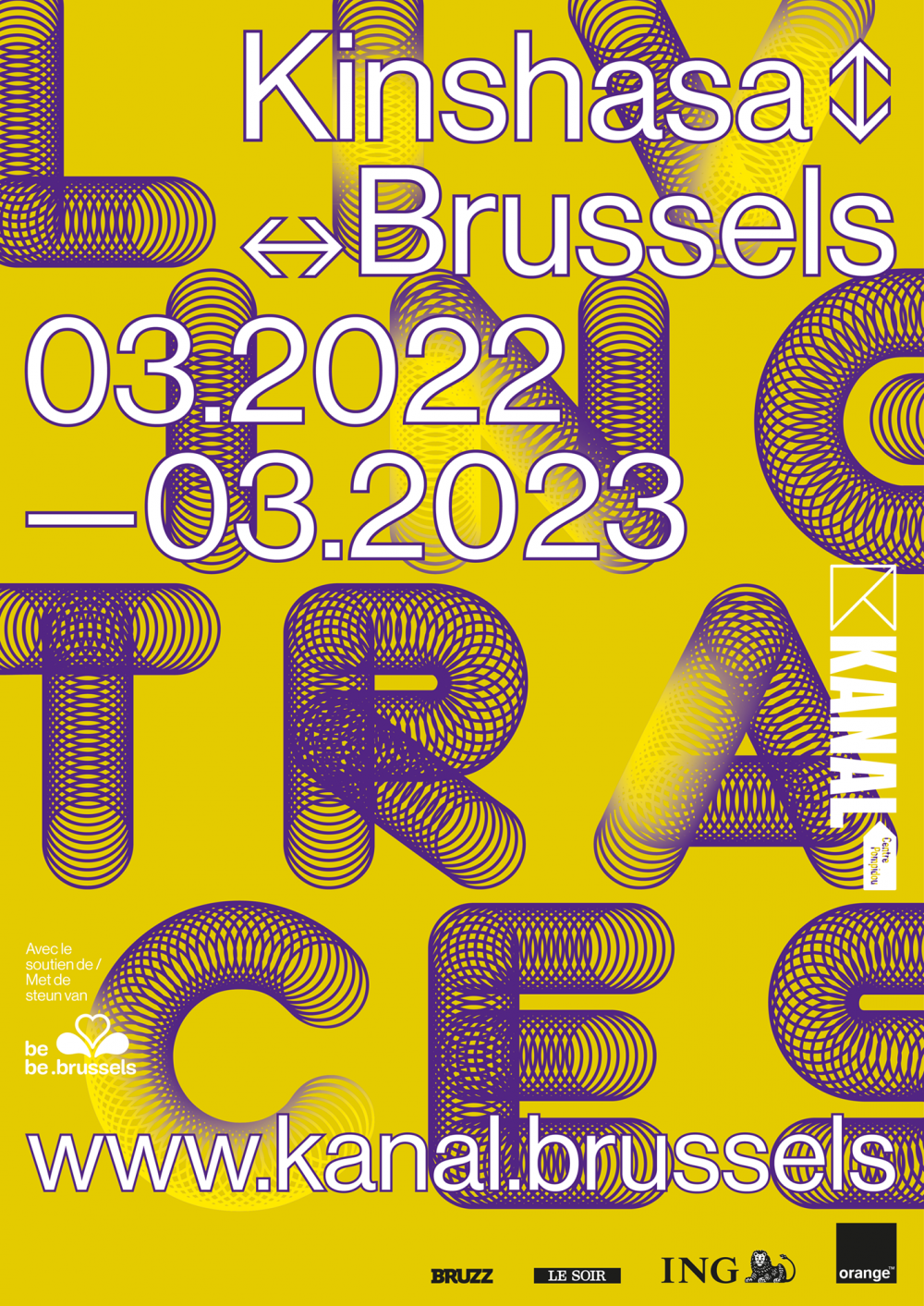 Living traces, a bridging project between Brussels and Kinshasa
Press release 18.03.2022
Tuesday 22 March sees the inauguration in the Democratic Republic of Congo of "Living traces, a bridging project between Brussels and Kinshasa" which will take place in the two capitals between March 2022 and 2023. Led by KANAL-Centre Pompidou with the support of partners, artists, and committed curators, the project has been conceived as part of the economic and cultural mission of the regional government in Kinshasa scheduled for next week.
The starting point is a reflection on the 60 years of independence of the Democratic Republic of the Congo. A scrutiny of both the DRC past and present as well as its links to Belgium. The people who have conceived the project explore the colonial legacy and its impact. What has survived and is still alive in both of these countries today?
"We are aware that the work on 'living traces' is not univocal and that there are multiple aspects to the appropriation of the colonial heritage that are both emotional and militant. We decided therefore to give all these voices an opportunity to express themselves and to create a platform of exchange, dialogue and artistic expression that would allow us to build the project", stated Yves Goldstein, director general of KANAL.
 
Living Traces is a journey, a multi-faceted and multi-directional project that will include a combination of paintings, installations, music, dance, films and sound creations by contemporary Belgian and Congolese artists. Starting with the exhibition KINSHASA -(N)TONGA - Entre futur et poussière, which will be held at the Académie des Beaux-Art de Kinshasa from 22 March to 22 April 2022. The aim of this exhibition, that is presented by Twenty Nine Studio and Traumnovelle on the initiative of Sammy Baloji, is to reveal the city of Kinshasa via the many different 'ways of doing' and 'producing'. It will highlight the works of Kinshasa's artists, who are imbued with a powerful imagination about this shared heritage inherited from colonisation.
 
Other guest artists exhibiting in Living Traces include Sammy Baloji, Agnès Lalau, Pascale Martine Tayou, Michèle Magema, Soraya Lutangu Bonaventure,, and many others. The narrative of the project is the work of the curators Sorana Munsya and Evelyn Simons, Johnny Leya and Twenty Nine Studio, Gia Abrassart and Joelle Sambi in partnership with Vrije Universiteit Brussels, Académie des Beaux-Arts de Kinshasa, Horst Festival, CIVA, Cinematek and Café Congo, among others.
 
Living traces is an inventory, a long-term artistic escape that takes its time and marks the beginning of a process of reflection during which it will need to deconstruct, discuss, and recompose bearing in mind and heart the traces of colonial history and the living impulse to create common, respectful, and shared narratives. The desire to invest in a subject of this kind understandably imposes the indispensable inclusion of art, artists, and cultural sites in the current debate on the subject of colonial heritage and the accompanying task of decolonisation.