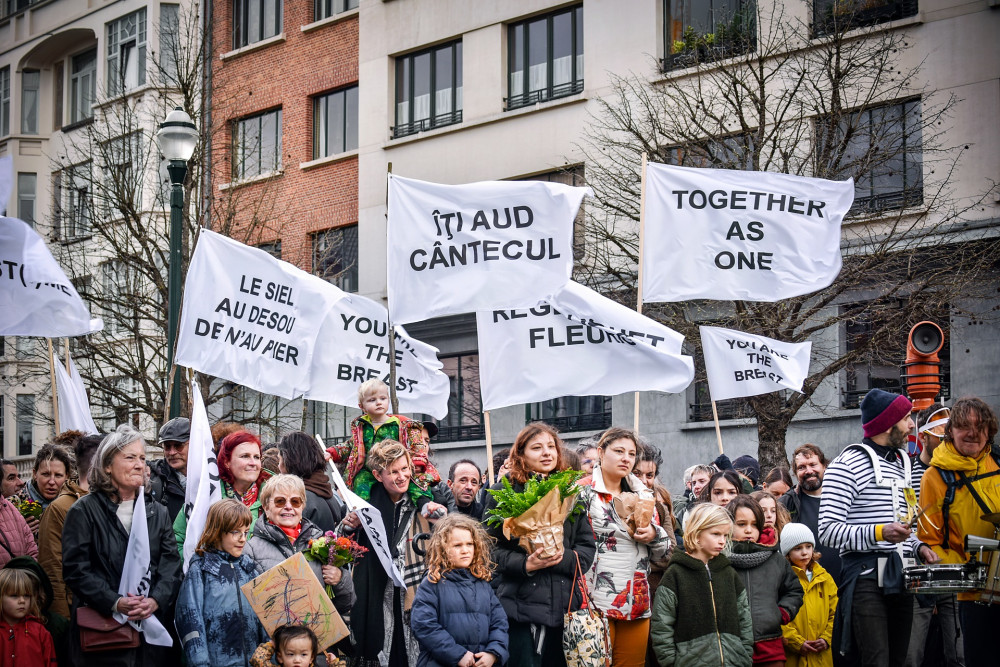 Slogans to dream the city
Invited by KANAL, author Leïla El-Mahi conducted writing workshops with the neighbours of the future museum. The artwork by Laure Prouvost packing the entire Showroom of the former Citroën garage, as part of the Façade series, was at the centre of that exercise. The artwork shows a garden taking precedence over the invasion of concrete and human structures. The many plants, flowers and body parts symbolise that resurrection, transformation and strength. Slogans in different languages scream out for a softer future. Workshop participants penned down their dreams for the city of tomorrow echoing this universe, which opens a conversation with and about Brussels. Those slogans were made into flags and were distributed during the opening parade of the work! 
"We had very different groups" says Leïla El-Mahi, "newcomers to the neighbourhood, art students, real brusseliers from the neighbourhood. During the workshops, plants were put in the space and everyone got the chance to express themselves using a 'speech flower', with the idea of going back to the essence, to nature.
Participants were asked to draw an emotional city map showing their favourite places in Brussels, transmitting others their love for their neighbourhood. They made explicit wishes and hopes for a greener, more open and less motorised city. But there was also room for nostalgia and memories of places in the neighbourhood that had disappeared without any tribute.
Many different languages were spoken during the workshops : Urdu, Farsi, French, Arabic, Albanian, Dutch, Greek, German, English, Spanish, ... Through translation applications that some participants use every day to make themselves understood, everyone was able to express their wishes for the city. Once everyone was comfortable, languages were mixed and multilingual slogans promptly popped up. Just like in Laure Prouvost's world. A mum and her daughter participated in a writing workshop for the first time and confided in Leïla that it would not be the last. "It's precisely to give everyone access to culture and fuel the love of writing that I love doing this work so much," she adds.
Leïla El-Mahi gives writing workshops. She is a writer, journalist, storyteller and coordinator in the socio-cultural sector.
Discover the slogans below: