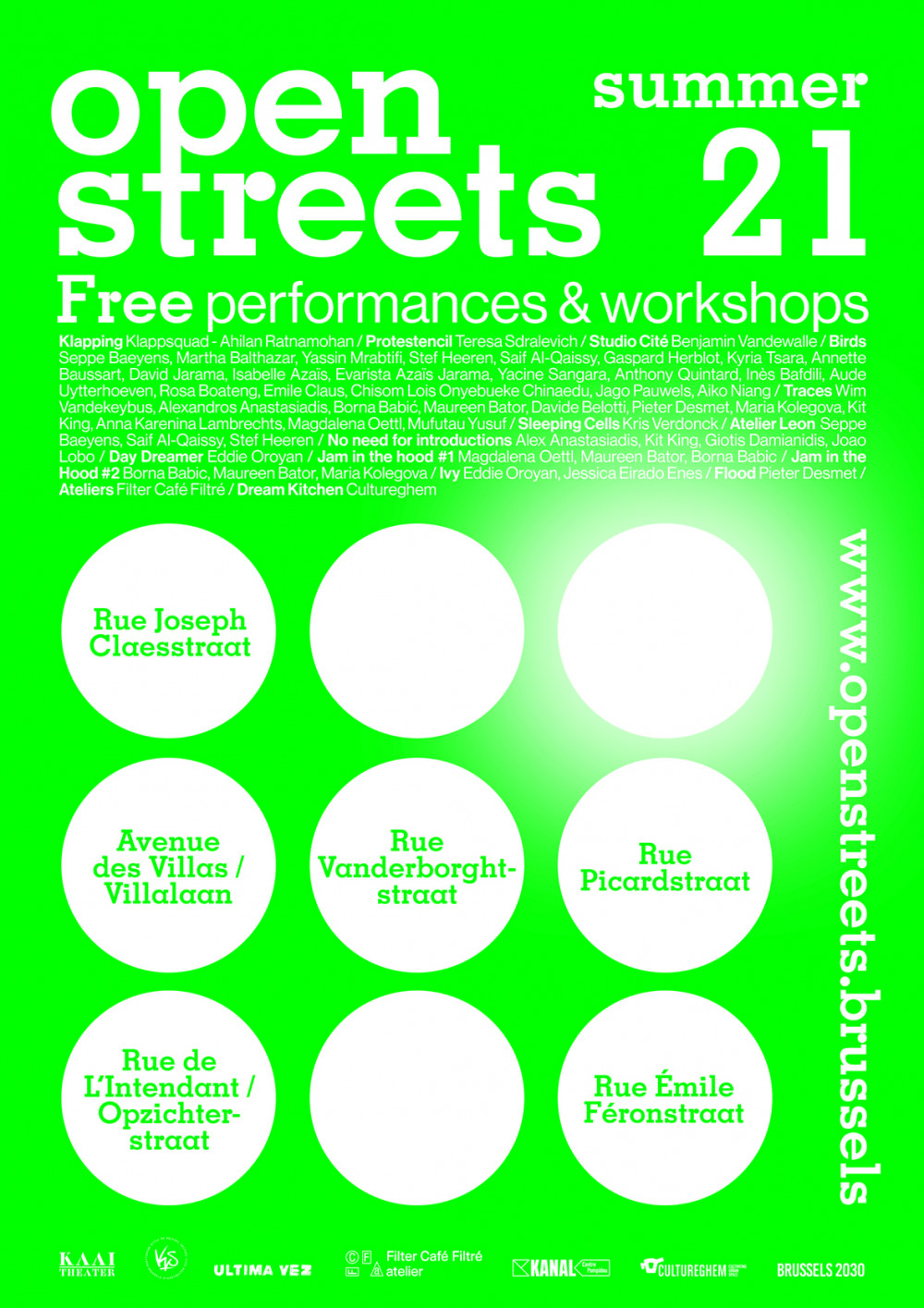 During the summer 2021, KANAL participates in Openstreets21
An extra-mural project
The summer of 2021 is set to be unforgettable! Not due to Covid this time, but because of OpenStreets21. Several cultural centres in Brussels, Filter Café Filtré and Cultureghem have joined forces and are taking to the streets. The result will be a summer full of free performances and workshops held in six summery streets throughout Brussels. How about a dance performance, for instance, in Molenbeek's Opzichterstraat/ Rue de l'Intendant? Or an 'imagine the future' workshop in Vanderborghtstraat/Rue Vanderborght in Jette-Koekelberg? Or why not prepare a meal together in Saint-Gilles' Emile Féronstraat/Rue Emile Féron?
OpenStreets21 is a collaborative project between KANAL-Centre Pompidou, Filter Café Filtré, Ultima Vez, KVS, Cultureghem, Kaaitheater and Brussels 2030 set to take place in six summery streets. Come and discover the performances and workshops this summer on Rue Vanderborghtstraat (Jette-Koekelberg), Opzichterstraat/Rue de l'Intendant (Molenbeek), Picardstraat/Rue Picard (Molenbeek), Villalaan/Avenue des Villas, Joseph Claesstraat/Rue Joseph Claes and Emile Féronstraat/Rue Emile Féron (the latter three in Sint-Gilles).
To find out more, visit: www.openstreets.brussels
KANAL presents four projects as part of OpenStreets21:
For the Studio Cité, Benjamin Vandewalle sets up a kind of art fairground, which allows visitors to view the city and its streets from a different angle. Studio Cité consists of a dozen interactive installations and performances, each playing a game that affects the way you perceive reality.
Atelier Leon is an accessible neighbourhood dance workshop that gets everybody involved. Prepare to be challenged to express yourself through dance and movement, and break away from existing gender roles and expectations.
Protestencil provides participants with the opportunity to create and print their own poster using more than 100 high-impact stencils.
Sleeping Cells by artist Kris Verdonck are metal frames containing hammocks made from recycled seat belts. You can find them in any of the six participating OpenStreets21 streets.